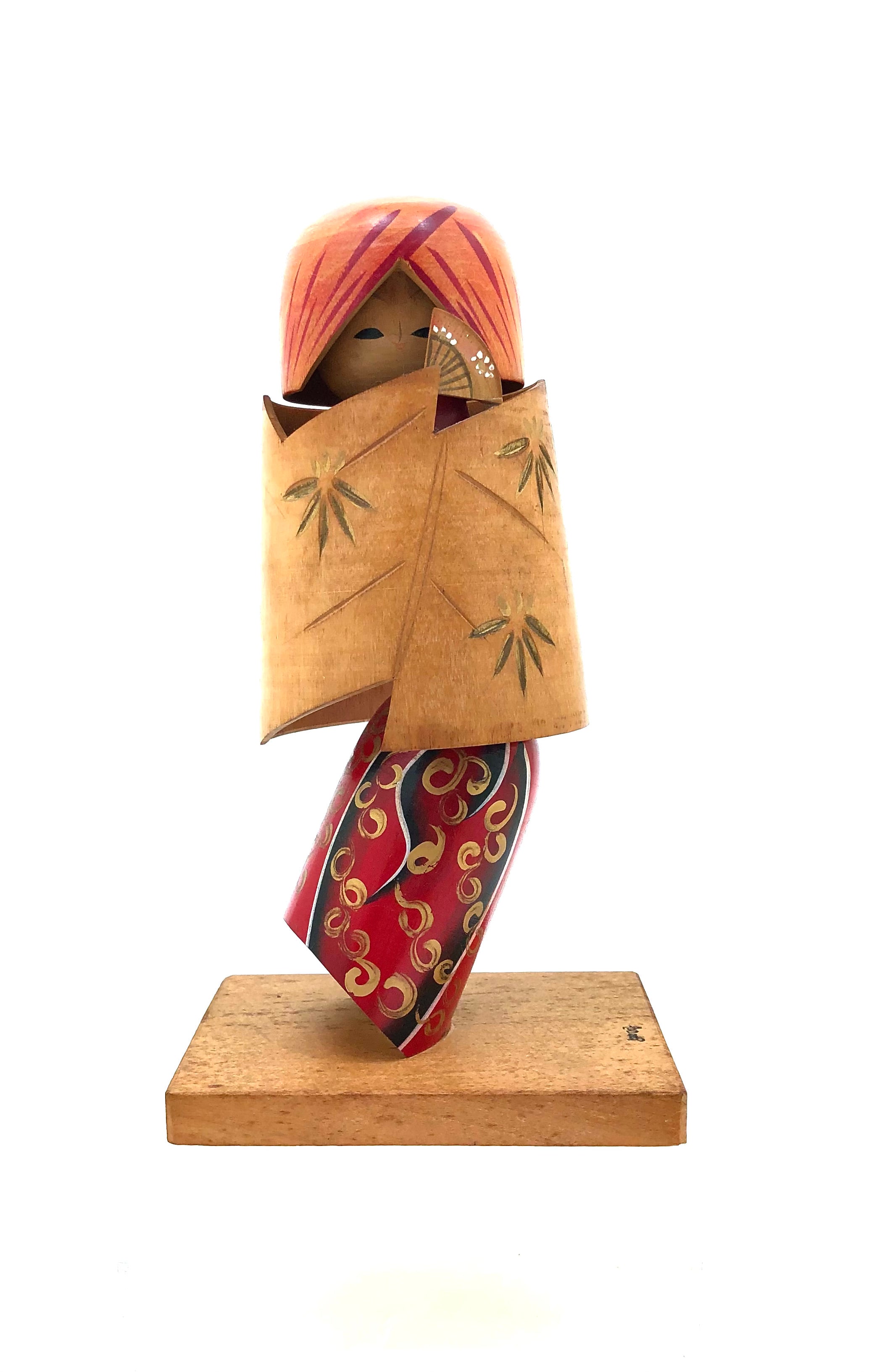 Vintage, Rare Sosaku Kokeshi Entitled: Kagamijishi | Japanese Kabuki - Renjishi Lion Dancer Kokeshi by Miyashita, Hajime
Dimensions: 10-0"h
Offered is a wonderful hand-painted Kokeshi which depicts a Lion Dancer known as Kagamijishi, which is a shortened name of the Kabuki dance called the "Shunkyo Kagamijishi". Kabuki is a form of traditional Japanese drama with highly stylized song, mime, and dance. It is performed only by male actors using exaggerated gestures and body movements to express emotions, in historical and domestic plays, drama, and dance. 
This Kokeshi represents the Lion Dance character, (Mai), which was an ongoing theme for this artist, for it portrays the spirit of the lion, which is a contrast in character between the elegant femininity of Japanese women versus the dynamic masculine power of the Lion Spirit. The figure is made of solid turned, and carved wood, and is shown in a relatively simple juxtaposition of the form/body elements, which affords a contrasting effect as if dancing, emphasizing the natural birch wood, (Shirakaba), and painted surfaces. (Several examples of this doll has been left unpainted). 

The pose enhances the beauty of the doll, with the poetic meaning translated through the minimally ornamented material. Along with simple relief carving of the body  which consists of an outer Kimono and undergarment, and is complemented by wide-wrapped sleeves. The Kimono details three low-relief, carved bamboo fan fronds outlined in gold, and is beautifully painted gold and black cloud graphics on the red under-kimono, adding dimension to the overall figure. Her face is simply detailed with eyes peering out while holding a fan with painted spring flowers in one hand. Her hair has a wash of red over the natural wood color and larger red line-work made to look like a simplified Lion's mane, full and majestic in appearance and focused on the front of her head. She is mounted on a short platform, (dais), to present the doll and to support the offset this juxtaposed figure. Miyashita-san signature is on the base.

Condition: Excellent, original condition, consistent with age and standards of collectable Folk Art, with all details perfect and as crafted.

Origin:
Born in Yonezawa City, Iwate, Miyashita-san studied traditional kokeshi making under Yamagata-Sakunami Master artist Kobayashi Kichitaro. He began his Sosaku career in 1959, winning many awards, including the Prime Minister's Award in 1977. Crown Prince Naruhito and Princess Masako purchased his culturally sensitive dolls in 1969. His studio was located in Maebashi City of Gunma Prefecture, but after it was consumed by fire in 2006, Miyashita-san retired.
Collector's note – descriptive qualities, standard characteristics & ornamentation styles:
Miyashita-san was known for his seasonal themes, such as the period of transition from spring to summer known as 'tsuyu', which means 'rainy season. Traditional umbrellas (Wagasa), are atypical, and rarely used in Kokeshi creations, except for Miyashita's designs. He also depicts Kabuki dancers known as Kagamijishi, which is a shortened name of the Kabuki dance called the "shunkyo Kagamijishi". Depicting the Lion dance characters, (Mai, in this instance), was an additional theme for this artist, for it portrayed the spirit of the lion, which is a contrast between the elegant feminity and the dynamic masculine power of the lion's spirit. Miyashita-san depicts brides in traditional wedding attire. One is detailed in a Uchikake, (Brocade), Kimono with traditional motifs, (chrysanthemums and cranes). Her head is adorned with a traditional cover called a Tsuno-kakushi, which refers to the "hiding the horns of jealousy", and symbolizes a prayer for the marital accord. And finally, he breaks from the traditional kokeshi form with a later doll showing oversized arms and feet.
Additionally, Miyashita-san created a series of Yukata and Festival Garment Kokeshi shown above. The name Yukata comes from the word 'yu', (bath), and 'Katabira', (under clothing). Yukata are draped loosely over the body for comfort, (figure on the right). This all began over 1,000 years ago when people wore it to and from the bath. Yukata is a garment that the Japanese have invested a great deal of ingenuity in developing, as it is an ideal casual wear for bathing. Kokeshi dolls have traditionally been sold at Japanese Inns, (Ryokan). Today, the Yukata and Festival Garments are also worn in Bon-Odori dance festivals and competitions throughout Japan. The majority are made of dogwood, and display different graphic patterns, with either a unique obi or sash, which is also simulated in wood. The hair designs also illustrate the diversity of individual tastes of the period.
Artist's signature: