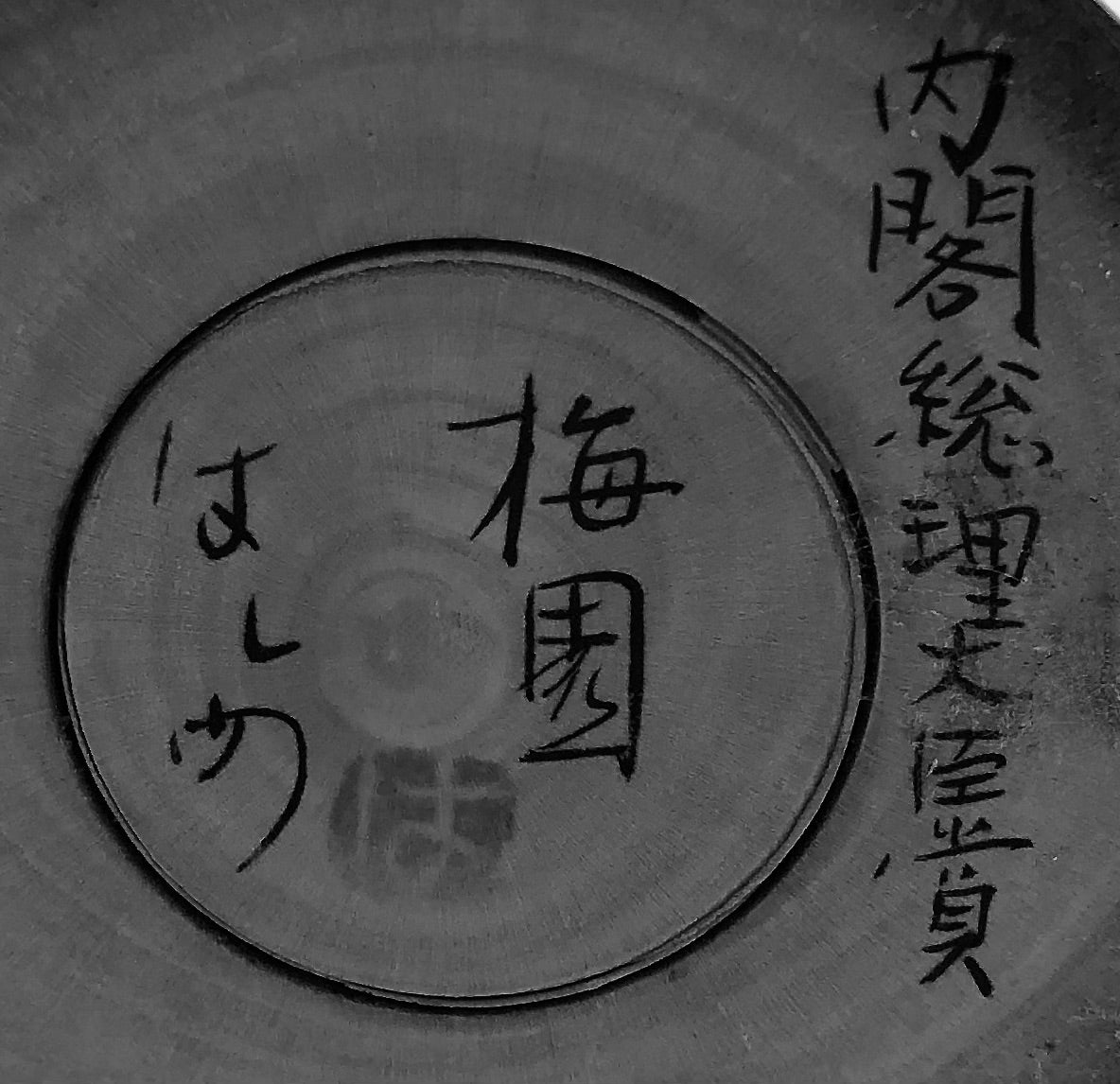 Vintage Japanese Sosaku Kokeshi entitled: "Baien / Ume to shijo | Plum Blossom" by Takahashi, Hashime | 1918-2002
Dimensions: 14-3/4"h

This tall vintage Kokeshi is by legendary master Kokeshi artisan Hashime, Takahashi, who created the piece in celebration of the Plum Festival. The doll is identified with two titles, (Baien and Ume to shijo), for which the name was used differently depending on whether it is a competition entry or a market item. This doll uses an enduring metaphor for the ephemeral nature of life, an aspect of Japanese cultural tradition that is often associated with Buddhistic influence.
The particular doll incorporates a hand-drawn spray of white plum blossom branches in full bloom and formed on the lathe from one piece of Dogwood, (Hanamizuki) wood. The particular doll incorporates a hand-drawn spray of pink plum blossom branches in full bloom. The plum is associated with the start of spring because plum blossoms are some of the first blossoms to open during the year. Plum blossoms are a symbol of refinement, purity, and nobility, and also a reminder of past love. The doll has a pronounced neck supporting her head that has elegant peaceful eyes, which are a trademark for Hashime-san, a suggestion her mouth, with suggested bangs and side hair fringes. The bottom of the doll bears the artist's signature, the competition title of the doll, (Baien), and the inscription "Prime Ministers Award, All Japan Kokeshi Competition", along with a red stamp impression.

Condition: Excellent vintage condition and commensurate with age. Seldom found carving, with no loss or fading of artwork/details.  After the turning, carving, and painting, the doll is lacquered and sealed with a natural candle wax, (Rosoku no ro). A perfect doll for the collector of Japanese Kokeshi folk art.

Origin:
Originally a fine arts painter, Takahashi-san is from Sendai, (where Traditional Kokeshi were born), in Miyagi Prefecture. His artistic background also includes time spent as a craftsman of Yuzen silk kimono dying. He is a multiple award winner in yearly Kokeshi competitions, receiving the Prime Minister's Award, the highest honor bestowed on Sosaku Kokeshi artists. All of his work is easily recognized by the painterly designs decorating his dolls. Now deceased, his son, Akinori is carrying on the family's tradition, but in limited production.
Collector's note – descriptive qualities, standard characteristics & ornamentation styles:
The most unusual quality of his dolls is that their heads can be a separate element, or just a simple tapered element at the top of the doll form. The artist motif's range from realistic to abstract Plum flowers, (Ume), Cherry blossoms, (Sakura), Japanese Iris, (Ayame), or celebrating seasonal festivals with zodiac animals. Takahashi-san has an unusual way to illustrate kimono in a very painterly way. He shows both the kimono and undergarments, with exaggerated waists and simple obi, if it shows an obi at all. Occasionally seen is his use of Rokuro Moyo in both carved and painted form.
Artist's Signature: