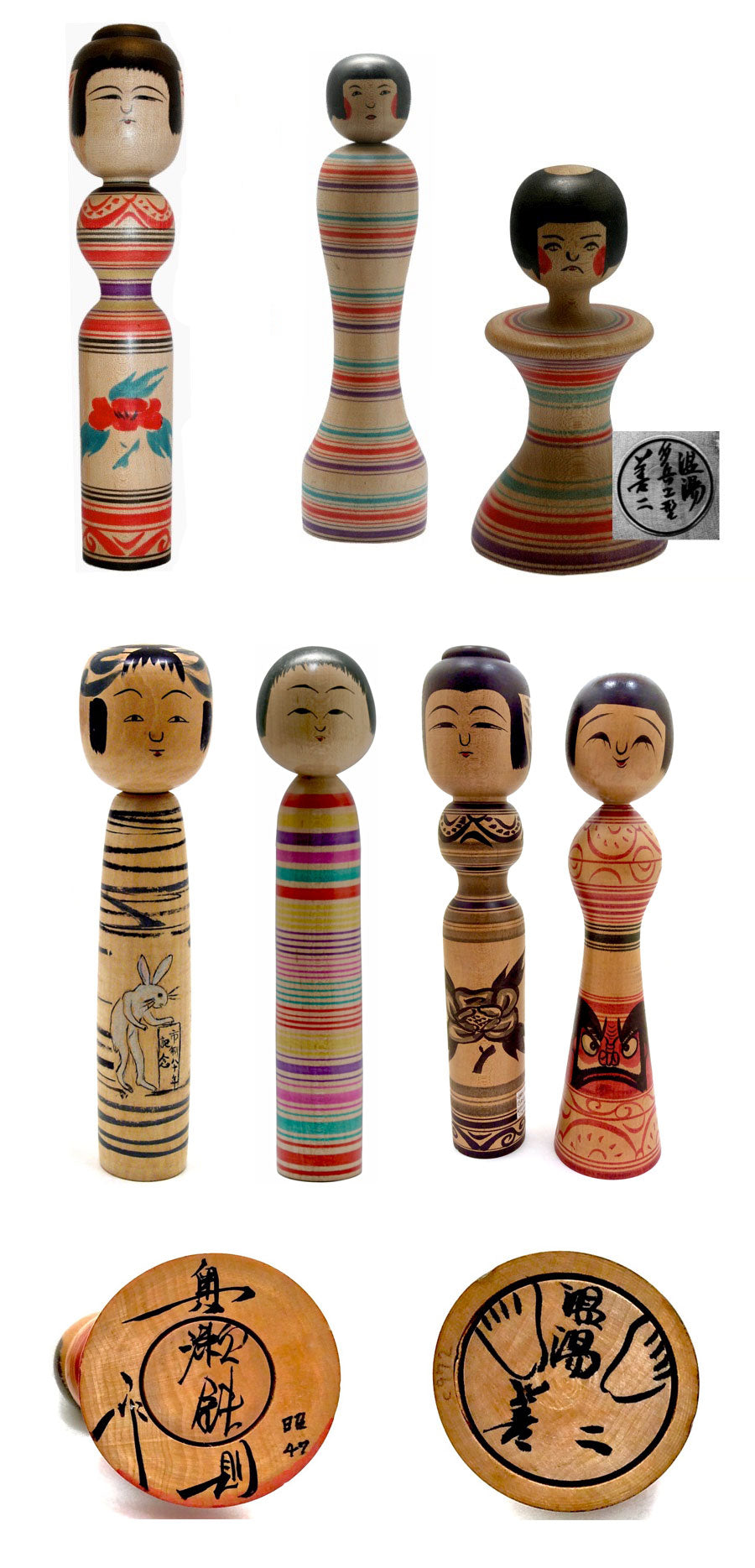 Japanese Traditional Kokeshi | Tsugaru-Kei (Family)
Prefecture: Aomori
Origin:
Tsugaru is the newest of the ten traditional kokeshi. Tsugaru has a great deal of variety in the shape and pattern of the doll. The youngest of all the strains of dento kokeshi, Tsugaru-kei developed after adults took an interest in buying more kokeshi as souvenirs from trips to the hot-spring resorts. Tsugaru dolls, which originated in the Aomori Prefecture in the region of the same name, are sometimes also known as Nuruyu dolls, originally fabricated by Hidetaro Mori and which made their appearance at Nuruyu ("lukewarm") Onsen, in the city of Kuroishi.
Collector's note – characteristics/painting style:
One of the distinguishing features of this doll is that it has hair in a bob or a chignon, (topknot), without much decoration on the head, though the hair is painted solid black, brush strokes are visible on the edges of the bangs and hair. White Iris, Peony, Camellia, and Daruma dominate as body decoration, along with stripes, (Rokuro Moyo), at the top, center, or bottom of the doll. One can easily recognize a Tsugaru doll because many will have the face of Daruma painted on the lower half of the body. Also, the flowers painted on the doll look quite realistic; the short history of the strain may not yet have given it enough time to patronize. Dolls that have round chests, thin waists, and cone-shaped lower bodies on which human faces are painted will strike you as quite unusual and interesting.
NOTE: the pair of images on the right representing Daruma, was created by Sato, Zenji, (b.1925), in which he drew "feet" on the bottom side with his signature, and the figure on the right is signed by his mentor and master, Mori, Hidetori, (b1895). Most of the faces are taken from the pictures decorating huge floats used for a summer festival in Aomori and Hirosaki.

Notable artists:
Obo, Muchihide, 1950
Hasegawa, Kenzo, 1942
Kojima, Toshiyuki, 1949
Kon, Akira, 1953
Mamiya, Masao, 1921
Mori, Hidetaro, 1955
Sato, Yoshiki, 1949
Shimazu,Seiichi, 1930