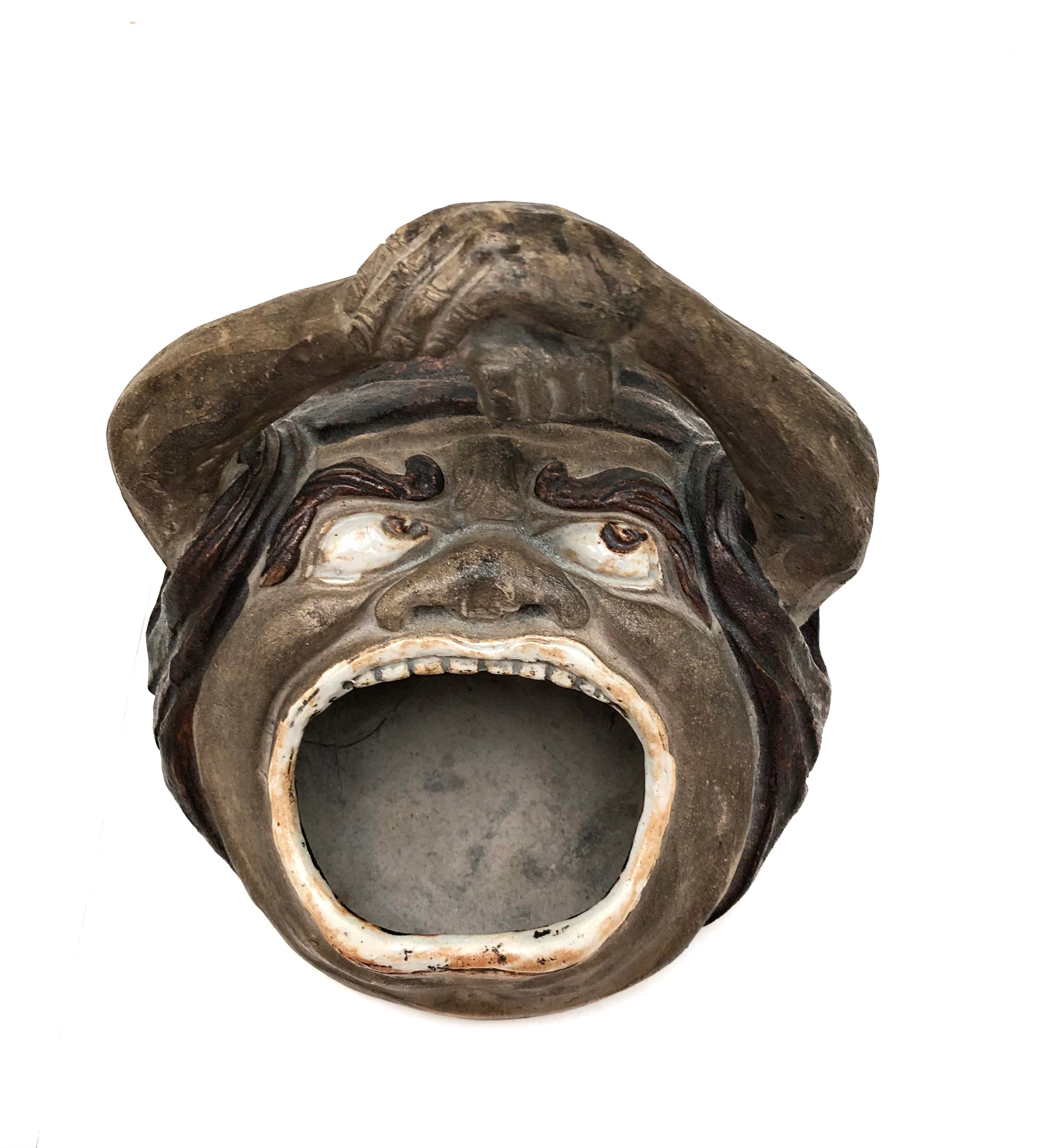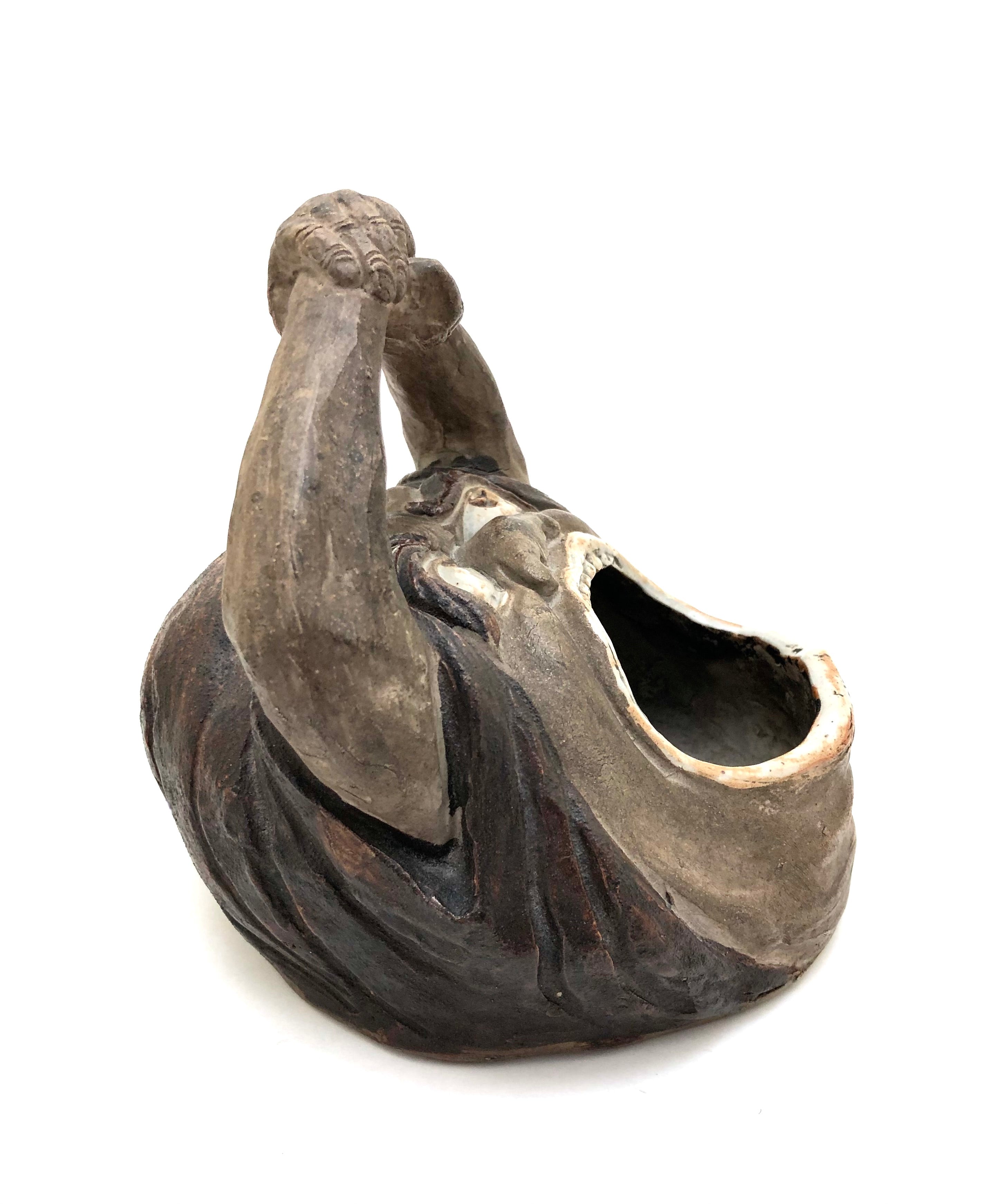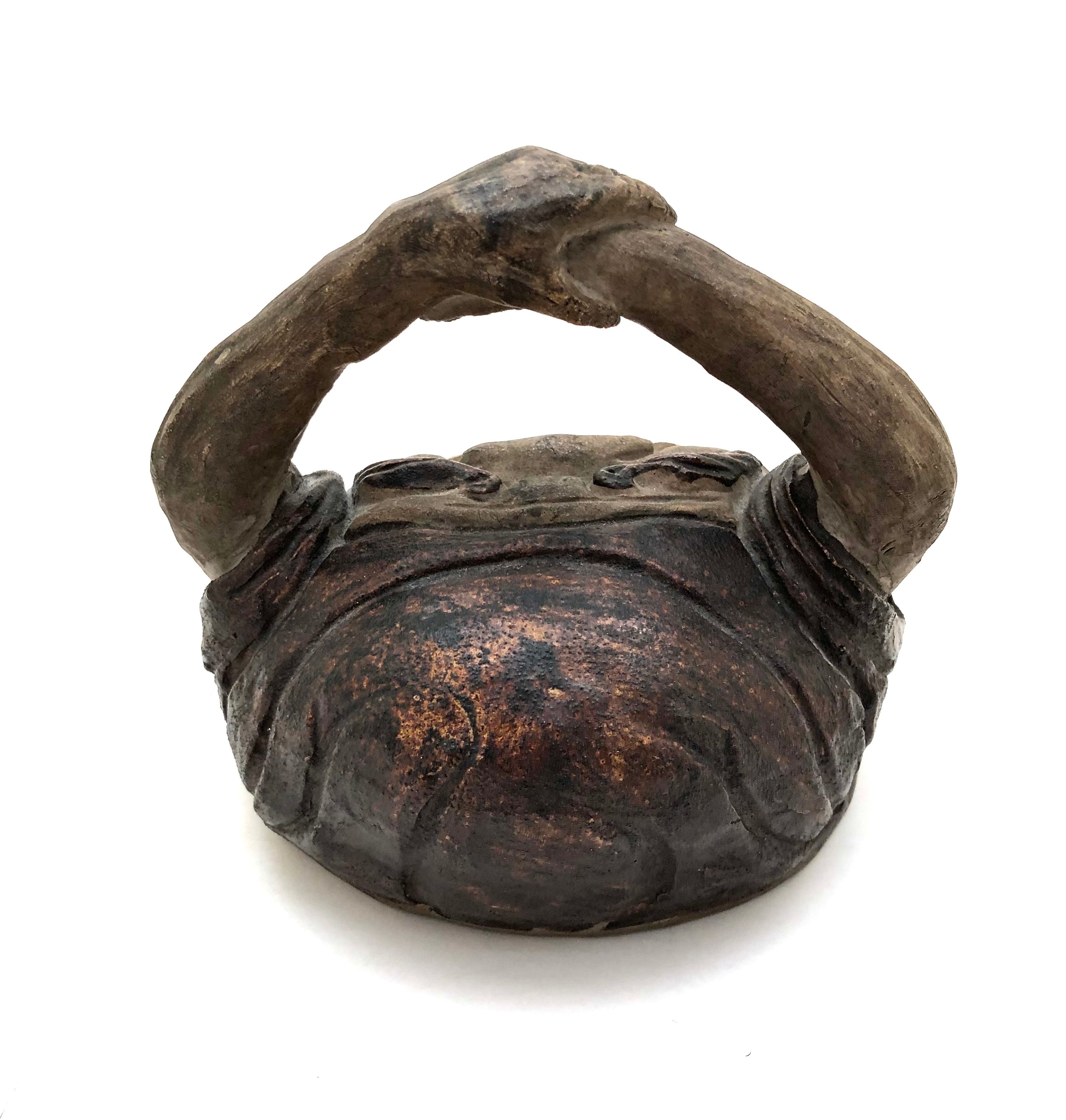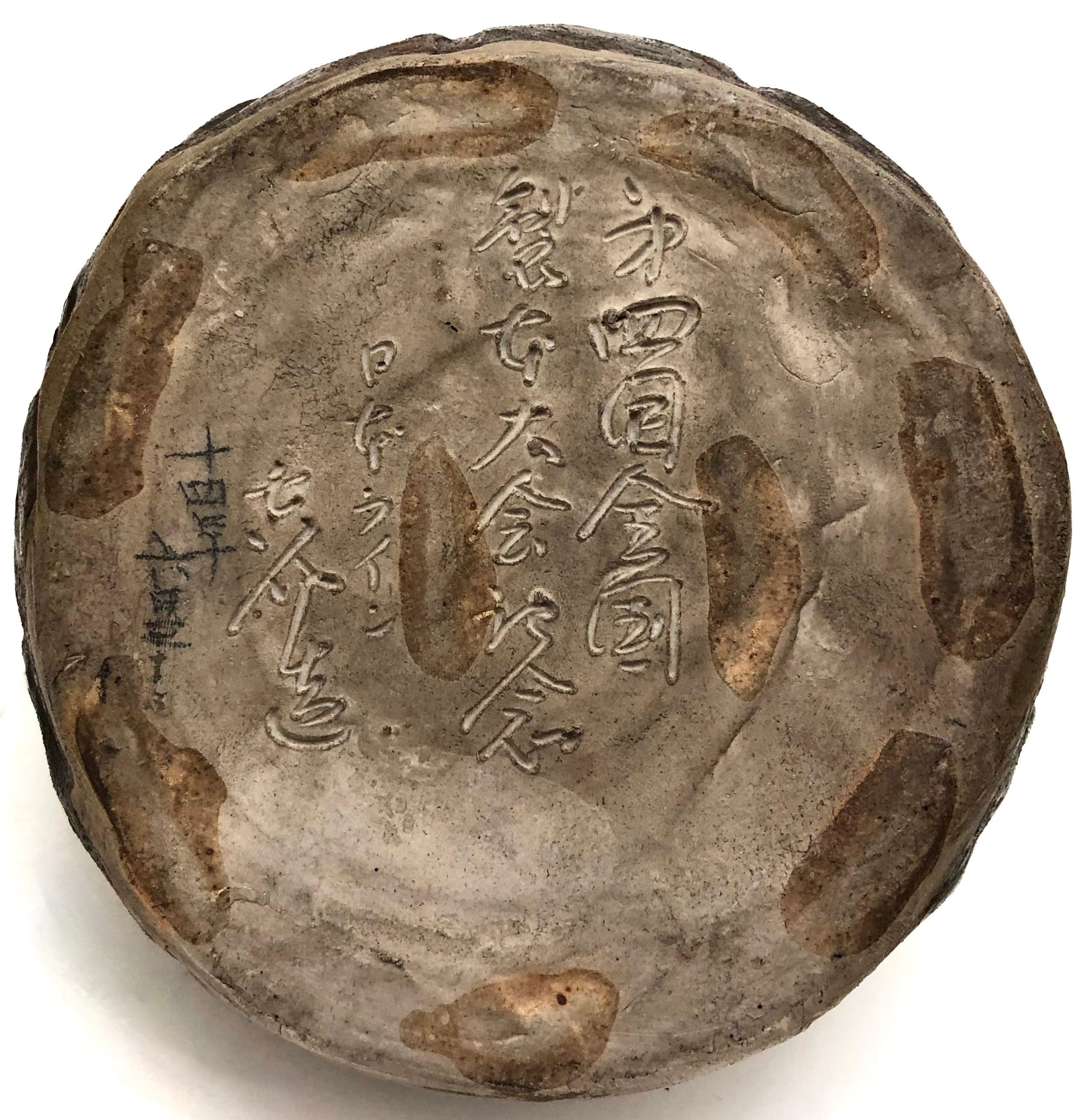 Japanese Antique Echizen yaki Daruma Hand Warmer | Te-aburi Hand Warmer
Dimensions: 6-1/2"h x 6-1/2" dia.
Offered is a 19th-century Meiji period Japanese "Echizen Ware", a stoneware whimsical handwarmer, in the form of Akubi Daruma, ("Yawning Daruma", which is not socially correct behavior, but to stretch your arms and back and take a deep breath brings oxygen to your brain and helps your mind to stay sharp, and a popular symbol of perseverance). The object is designed to be used as a hand warmer used during the tea ceremony by samurai and court nobles in which specially prepared charcoal, (Binchō-tan / ubame oak) was first heated in a brazier/hibachi and then transferred to the hand warmer that was placed on the top of the table for individual use.
The inside of hand warmers is typically hollowed out to accept black sand on which fragrant wood chips, (cedar, pine, sandalwood, and rosewood) were placed on top of charcoal for heating and to provide a pleasing atmosphere. In this case, the wide ample mouth opening allowed heat to rise up from the figure. Te-aburi Hand Warmers such as this were created to appeal to the personal tastes of their owner and transported from room to room so as to warm hands and enjoy tea.

He is shown yawning, after days of long meditation, opening his mouth widely, creating the opening of the hand warmer. The incredible details are realistically rendered, including wide expressive eyes with pupils, his crane-like eyebrows, for which he is known, a wide nose, and an open mouth with detailed teeth.  His arms raised out of his Kāṣāya, (hooded cloak), and above his head, showing "age-worn" hands and fingers detailed in high relief, interlocked to form an ample carrying handle. His cowl, which is a signature detail, covers his head and drapes down the back of the warmer. The glazing on this piece is beautifully executed highlighting the diverse elements including his mouth and teeth which are off-white, matching his eyes. This is a beautifully modeled piece of pottery created by a ceramic master and inscribed on the back of the object is, the signature, (Shinzou or Soetsu), (on the left in pencil under the glaze). It also has information on the name of the piece and who it was presented to at the time of making. The brazier was purchased from an antique shop in Kanazawa, Japan in 1980.

Condition: Excellent condition and wear consistent with age with no chips, No breakage, and no missing elements. Meets all the Museum standards of collectible Folk Art.

NOTE: Echizen ware, (called Echizen yaki in Japanese), is a type of pottery produced in Echizen, Fukui prefecture. This traditional handicraft comes from one of the Six Ancient Kilns of Japan which along with Bizen, Tamba, Tokoname, Seto, and Shigaraki, are the most outstanding Japanese kilns with traditions that remain even today.

Echizen ware is notable for being fired without the use of enamel, and pieces are often not decorated either, resulting in a simple texture. One of the appeals of Echizen ware is its natural glaze that comes from firewood ash covering, and dissolving into the pieces as they are baked at a high temperature. Therefore the pieces are classified as stoneware, between pottery and porcelain, also called yakishime or semi-porcelain. The contribution of Zen to Japanese culture is profound, and much of what the West admires in Japanese art today can be traced to Zen influences on Japanese ceramics architecture, poetry, painting, calligraphy, gardening, flower arrangement, and the tea ceremony. A group of Echizen ware products was centered around items used in everyday life, including guinomi, sake tokkkuri, braziers, ikebana wares, and roof tiles incorporating a dark reddish-brown and ash grey, thoroughly densified, and strong.