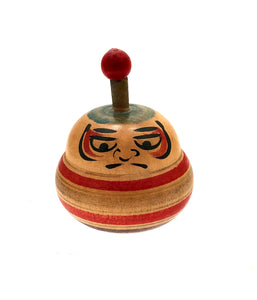 Antique Spinning Top
Japanese Traditional Spinning Top | Vintage Koma by Katakura, Tomio
---
Age:1960s
Descriptive qualities& condition:
Dimensions: 2-1/4"dia 
The simple shapes and beautiful harmony of colors are what attract us to Koma, a traditional Japanese game toy. The spinning top was a folk craft used as a toy, but also a traditional art perfected by the Japanese. As a kind of quip, the elegant spinning motion of the toy symbolizes "circulation of money" "smooth work", and "being quick-witted".
Katakura-san's top has an exceptional definitive feature of the Samuari looking face which is quite fierce, expressive to frighten competitors. All artwork is hand-drawn. There is red and purple linework further defining the top with a simple red knob at the top for spinning. This particular top has a specifically designed round bottom for playing in the snow. Unsigned but the craftsman is well known for this specific motif and type of spinning top.

Vintage Condition: Very Good condition with good balance and a good sense of proportion and color. The small red knob on the top is slightly off-center because of use but it still functions as intended. Drawing detail is Excellent with no loss of color.

... Read more
---
One of the most beautiful pieces I have purchased in over 10 years
I recently purchased one of the most beautiful pieces I have purchased in over 10 years. The information you provided was excellent, the piece is in mint condition as advertised, with a subject matter I did not have in my collection.
— dbl
Delightful and well written book
Just downloaded my ebook on Sosaku Kokeshi. Excellent and so excited to see that you transposed the hardbound version. Exceptional large color images with great descriptions and details. It is so nice to have a copy I can carry when touring and when I am on-line shopping for Kokeshi. Also nice not to have to pay for international shipping.
— Author's name
A great doll
As always, a carefully packed order arrived this morning. This Sosaku Kokeshi – Takeda, Nori Aki Kaze is a great doll. Her large attractive head and maple leaf pattern, along with the vibrant colour make this doll very intriguing. Another copy of your new book that I have ordered for my friend will be a great Christmas Present for him. Much appreciated. I have also enjoyed furthering my knowledge of Japanese Antiques and Collectibles through your website.
— Kathy
You did the subject justice
Vintage Kokeshi and its history is absolutely a topic thats close to my heart, so Im pleased that you wrote about it. Im also happy that you did the subject justice bringing the history of these creative artifacts to light. Not only do you know a great deal about it, you know the way to present the subject in a way that individuals will wish to read far more. Im so happy to know a person/site like you exists on the internet. I understand you are writing a book on Sosaku Kokeshi artists. That will be high on my list for there is nothing in English on the subject, and I am worried that the craftsmen and their creations will be lost as Japan becomes more western in attitude. Doomo arigato gozaimasu from Japan.
— Misugi
Truly opened my eyes
I recently purchased your book on Kokeshi and what a find after collecting for over 10 years with no information to base my purchases on. Now I have YOUR ILLUSTRATIVE BOOK and it has truly opened my eyes. All the associated stories and folk tales give such light to my collection. A curator at the Japanese American National Museum in LA told me about this great resource. Your book happens to be astonishingly precise although I can understand why someone else has not written a book on the subject, because all the artists producing Kokeshi remain obscure and little information available has not been translated. Your book truly did switch the light on for me personally as related to Japanese folk art.
— John G
Detailed textual information & beautiful photographs
We just received your new book, Sosaku Kokeshi: A New Look at an Old Tradition. Let us be the first to congratulate you on this superb follow-up to Kokeshi: Wooden Treasures of Japan. Your comprehensive text with its notes on the artists and the beautiful photography create a work that any collector of Kokeshi should have if they wish to develop an understanding of and knowledge about this Japanese folk art. We don't know which is better (Does either have to be better?), the detailed textual information or the beautiful photographs. Both insist upon and rightfully demand spending time to enjoy and appreciate them. Thank you so much for adding to our appreciation of Kokeshi.
— Masakazu & Keiko Ota
Another great Kokeshi book edition
Another great Kokeshi book edition. I was thrilled to see many of the Kokeshi in my collection in your book. I even found a few that I still had not been able to identify, it was nice to finally know the artisans behind my wonderful collection.
— M. Molina
My kokeshi collection has become more focused and personal now that I am able to recognize which dolls I am truly drawn to
Whether you are a kokeshi doll collector like I am, or exploring Japanese folk art for the first time, Sosaku Kokeshi – A New Look at an Old Tradition is a wonderful, informative resource for collectors and a lovely visual introduction to Sosaku dolls. I just purchased a copy of the book, and I could not be more pleased! With its beautiful colour photographs, signatures and profiles of the artists along with titles of the dolls, it is a well-researched, comprehensive resource. While some dolls featured in the book were familiar to me, I was also introduced to artists and dolls that I have never seen or heard of before.
These two books have helped me to learn so much more about kokeshi dolls, and influence my thoughts on the process of doll selection. My kokeshi collection has become more focused and personal now that I am able to recognize which dolls I am truly drawn to. These two books have become an extension of and just as much a part of my collection as the dolls that sit on my shelves.
— Karen W.
WONDERFUL exposition.
The artwork on each doll is literally like a unique painting historically recording the Japanese culture. Thank you for your fine work and this educational experience.
— TM
After we purchased the first one, we fell irresistibly in love
We started collecting Kokeshi only a short time ago with the expert guidance of Michael and Robert. Beginning with a goal of three or four dolls for each of our granddaughters, we almost immediately changed our goal after we purchased the first one and fell irresistibly in love with this Japanese folk art.
We have amassed a small collection that we display proudly.
In spite of our limited background and only a little research to support our evaluation, Sosaku Kokeshi: A New Look at an Old Tradition is a magnificent work on the subject of these wooden dolls which make up a segment of the folk arts of Japan. The detailed background materials on the artists and the notes on the dolls can be an invaluable part of one's collection. The marvelous photography is an excellent complement to the text, as we re-viewed the images many times, envying the owner of each doll.
— Koigirl
I love my new jewelry box!!
Just want to say MAHALO — love my new jewelry box!! I wanted this tobacco box to hold my modest collection of jewelry. I tend to march to the beat of a different drummer most of the time, and I often repurpose items. When I saw this lovely Japanese box you were selling, I thought "bingo!" — perfect!! So, many thanks… and I hope to occasionally purchase an item now and then now that I know about you!
— Kristi
Delightful Kokeshi book
I received your delightful Kokeshi book, and I am very grateful to have discovered this beautiful publication. The photographs are singular elegant portraits. It is wonderful you have included the calligraphy kanji signature of the craftsman, as important as the beautiful painted dolls. Your book gives provenance to my small treasured collection and a guide in my search for more. Exciting to also discover a few of mine already in your book. Many thanks again for gifting this special kokeshi edition and I hope to continue to share the joy.
— Tania
Oh my goodness! She has arrived and she is divine!
She was beautifully packed and arrived safe and sound. She is so gorgeous and I thank you so much for all that you have done along the way. You provide such a professional yet also personable business and it was a delight dealing with you.
Thank you for bringing such gorgeous items to our attention – these Kokeshis are 'works of art' and we are lucky to be able to purchase them and bring them into our lives and homes.
I had to send you a photo of her with her new family and I have to say, as you predicted, she fits in beautifully.
I shall keep an eye on your website for further 'treasures'.

— Karen, the lucky owner of 'Pigtails' by Ishihara, Hideo
Mingei Arts can't be beat!
Thank you for your attention and guidance to a new mingei collector. Both your publication and mingei are outstanding, your packing is perfect and shipping prompt.
— Brenda
Really beautiful.
Got the vase over the weekend. Somehow this medium really speaks to me, at least the objects where most everything is in different shades of brown. Very appealing. Yes, too bad I missed out on the ginger jars you had for sale. Ah well, it's all OK in the universe. And what clever use of materials for safe packing!
— Da-Shih
Shopping through the items in this store is like treasure hunting, without the hunting.
I have several items from Robert & Michael's collection now and they all hold a special place in my home and warm my heart when I see them. Something about the art from Japan just makes me feel at peace and also comforted.
— Jessie
I could not be happier with my three new Kokeshi
Your time and personal attention was gratefully appreciated. I could not be happier with my three new Kokeshi – I have them displayed where I pass by often so I can stop and look at them – they always bring a smile to my face! They make me HAPPY! I also love your book and eBook. Thank you so much!
— Barb
Opened my eyes to the diversity and beauty of an amazing art form
It wasn't until I got your book that I realized what I had been missing these past years! Now I am totally addicted.
— B
Great spinning top
I purchased a vintage spinning top for a gift, and I absolutely love it! The ordering process was fast and easy, and the item was in the condition described on the website.
— Carmela
Thank you for sending this book to me
It is beautiful, so informative and stunning pictures. Well done to you both for producing this. Any wonder so many people around the world love it. I  will love using it as my reference book. You have both been so lovely to deal with……I look to you both as experts in all things Kokeshi and Japanese art, and look forward to our continued friendship across the world.
🙏🏻🐨💐🥂👘🌎🌏🍱 🥰
— Karen