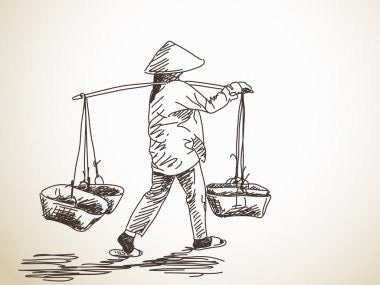 Japanese Vintage Bamboo Yoke | Shoulder Pole | 1912
Dimensions: 57-0"l x 3-0"w
This exceptional and rare vintage carrying pole, also called a shoulder pole/yoke is fashioned from bamboo with wrapped Rattan adding to its nicely weathered appearance. It features a central large diameter piece of split bamboo showing the node of the longitudinal directions slice of the bamboo. The basic design is split to produce a fairly flat piece, which is then tapered at each end. On each end, there is a piece of split bamboo affixed to the base supporting three perpendicular knobs at each end to support carrying containers, and to prevent the objects from slipping off. This vintage piece is beautifully "urushi" lacquer finish.
Pieces like this were used by towns people and merchants to transport goods and is very commonly used as a point of sale and to disperse goods. The individual carries the device by balancing the yoke upon one or both shoulders. This allows the wearer to orient the yoke along the path of travel, in order to more easily navigate crowded areas.

Condition: Excellent, no splitting and commensurate with age.