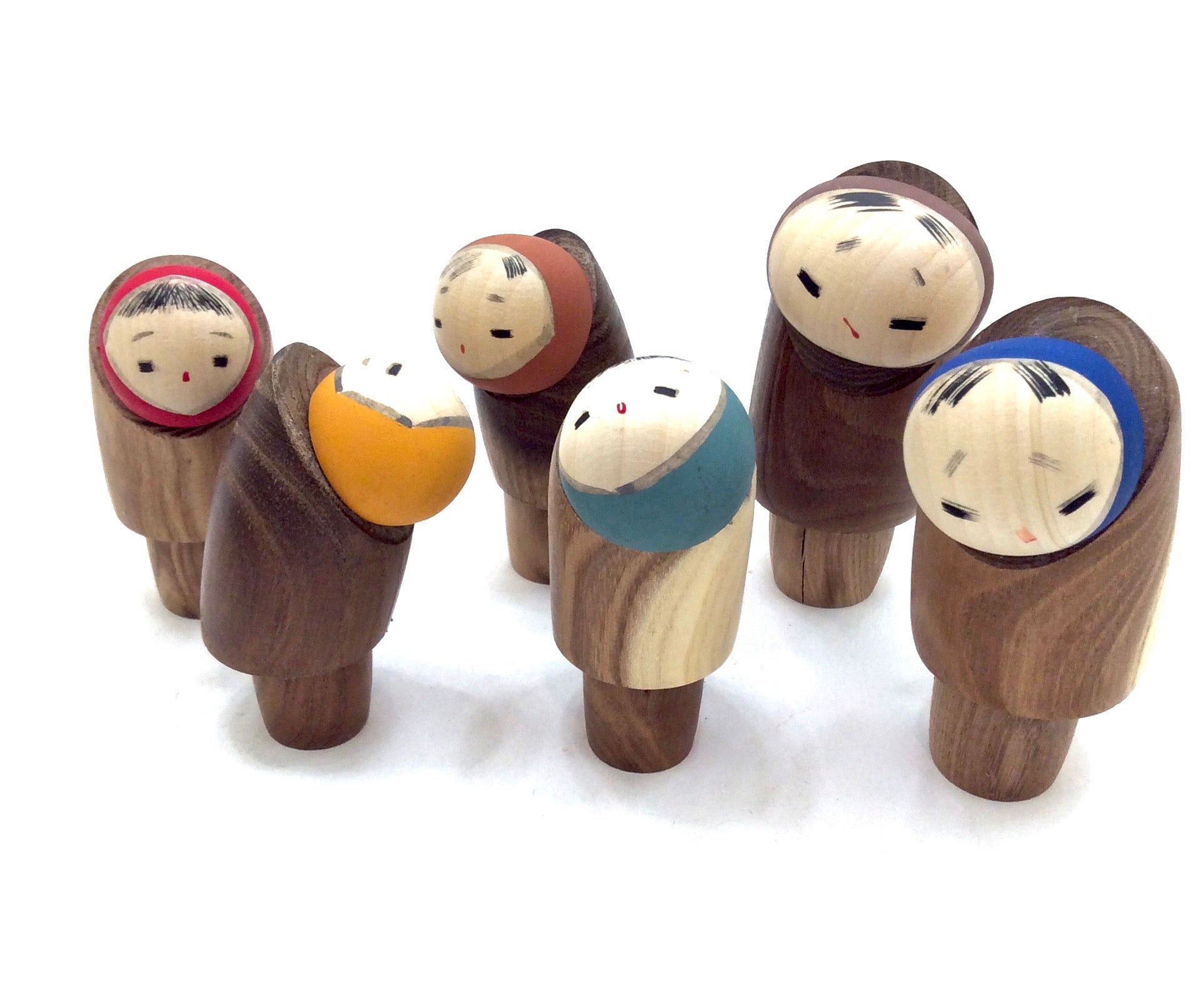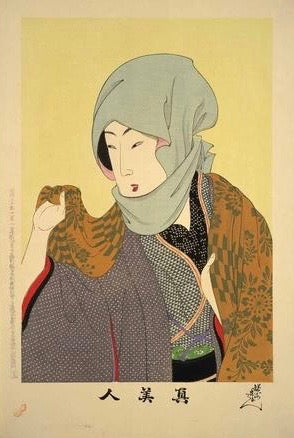 Japanese Vintage Sosaku Kokeshi Snow Children
Dimensions: 2-3/4"h to 3-0"h
All wrapped up for an outing in the snow, here are six Kokeshi children in different positions observing and feeling the snow on their faces. Each have wonderful expressions with faces peeing out of different vibrant colored thick winter shawls called "Kakumaki" around their bodies and heads in red, yellow, orange, blue and brown, with minimally ornamented Kimono showing at the bottom of each figure. The pieces are not signed but we believe they may be "one offs" by Shido, Shouzan.
Vintage Condition: Excellent sense of proportion, "as is" original craft/workmanship. Any discoloration, chipping/cracking, surface wear or structural damage noted. 
NOTE: The combination of Japan's mountainous territory and the length of its archipelago group make for a complex climate: from quite warm to very cold. One common article of clothing in the North is the "Kakumaki" used to protect from the chilly winter wind. This outer wrap is a large, four-cornered blanket, which is laid over the shoulders when going out for an errand during the cold snowy winters and used in most parts of Tohoku. The winter calls out to its inhabitants, inviting all ages to gather for local snacks, sweet fermented beverages, and mochi grilled on charcoal braziers, which also provide a bit of heat. There is a limit even in the children's world and according to the artist, if there were a title for this collection, it would be "Much too cold". Sosaku Kokeshi artists try to express a certain theme through designing these "Creative Creations".
Origin:
Shido-san is considered by Kokeshi collectors and critics alike to be arguably the most influential artist in the world of Sosaku Kokeshi doll making. Shido-san's main focus was depicting unadorned Northern girls in the traditional "Mino", or Snow Coat, but he also produced tall, thin dolls, which were sparsely decorated. His keen sense of design, minimal use of color, and simple elegant shapes set him apart from his peers, making him one of the most collectible artists emerging from the creative period of the '60s. He is a winner of the Prime Minister's Award, among many other awards.
Collector's note – descriptive qualities, standard characteristics & ornamentation styles:
Shido-san loved studying the use of combining different types of wood to gain the desired effect and to give dimension to his pieces. He also enjoyed creating slender, tall dolls to support the fact that they resemble the tall, thin trees seen throughout Japan. He incorporated a repetitive textural pattern called 'Harmonic Chatter work' to enhance the natural qualities of the wood on many of his works.
Shido-san particularly enjoyed the textural qualities of 'Chattering' on the rain/snow coat, (Minomushi), which is a favorite theme, executed with minimal painted ornamentation, with an emphasis on the natural wood. In general, it is said the Japanese culture is one of modesty and humility. Occasionally we see different types of headdress, one of which he called a 'Tsunokakushi', which is a wide headresses or hood, which covered elaborate hairstyles. We are told that the Japanese people regulate their behavior and response by reading faces and the eyes of others. Here, as well as elsewhere, you will see many examples of different characteristics of the eye is expressions. His most famous doll was called "mai", a dancer, which was an elegant and slender doll created in 1970. This doll exhibited traditional hair design with an emphasis on a brightly colored "obi" which brings forth the best use of complex geometry to create traditional Japanese clothing elements.
Shido-san was a prolific artist/woodworker of Kokeshi dolls. We additionally see unusual subjects focused on Zen Buddhism and figures of Daruma, (Bodhidharma) of which most were made in a "roly-poly" type figure seen throughout festivals in Japan.
Artist's Signature: