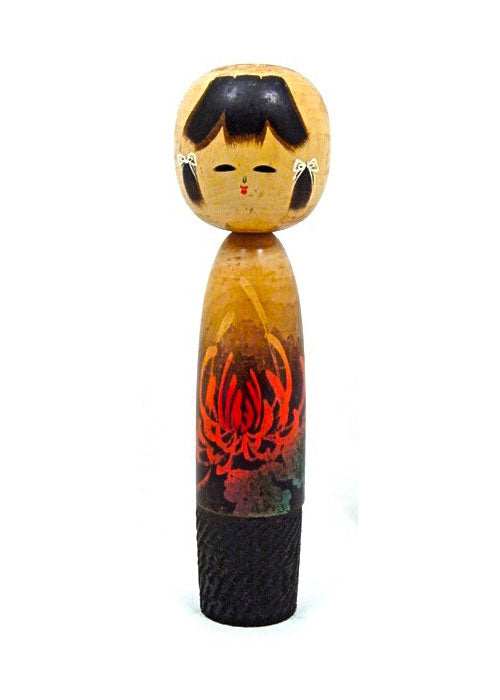 "Kiku | Chrysanthemum"
Dimensions: 14-1/4" h
Once used as the Imperial Seal of Japan, the Chrysanthemum flower was referred to as 'Kikumon'. These beautifully stylized and painted flower painted in red and orange incorporating variegated green leases are exceptional, and combined with the beautifully executed Chatter Work on the base, create a wonderful contrast in texture. Her face is quite simple with bangs and hairbows, with very expressive red lips. The piece is signed by the artist.
Vintage Condition: "As is" with some scattered light wear or stain that does not affect the design, and retains the original craft/workmanship. Any discoloration, chipping/cracking, surface wear or structural damage noted. 
Origin:
One of the few female creative Kokeshi makers recognized as an accomplished artist, Kouson worked out of her studio in Fukushima-ken, Kuwaori-machi. This was in the heart of the 2011 earthquake and tsunami devastation area of Fukushima Prefecture. 
As collectors, we felt it was most important to represent all Sosaku Kokeshi artists, and particularly a female and whether or not the artist has a written account of his or her life. Each shows the diversity of this cultural specialization and the creative work produced by this artist.
Collector's note – descriptive qualities, standard characteristics & ornamentation styles:
Her dolls are easily recognized by wonderfully soft and gentle faces, with the bodies' artwork ranging from simple but elegant sumi-e' brush strokes to beautifully painted autumn leaves, camellia, (winter rose), or the chrysanthemum, (Kikumon, as related to the Imperial Seal of Japan) and bamboo. She occasionally created Zodiac characters that are quite rare! Not afraid to create very large dolls, her work distances itself from other female artists in the creative genre with her bold approach. She also incorporated "Chatter Work" into the body of some dolls to create a wonderful contrast in texture.
Artist's signature: