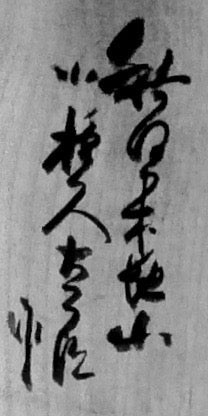 Vintage Traditional Kijiyama Kokeshi by Kyutaro, Ogura
Dimensions: 10-0" h
This doll is unique in its overall design and motif and became the most representative doll of this strain. It has a shorter but elongated neck and head and is made of a single piece of wood. The expressive face and simple hairstyle give the Kijiyama kokeshi a more realistic appearance which is typical of this style. Her striped kimono with a stylized Chrysanthemum design and apron was created in the early 1950s. The doll is painted in black outline with red accents, celebrating the natural characteristics of the wood from which it was formed. The doll has a rich chestnut hue, which adds a warm and inviting aesthetic to the piece, and is finished in a clear lacquer. There is writing to the right of the artist's signature with the doll's identification. This doll was fully made by this artist as opposed to later versions that were simply painted by the artist and the doll itself was lathe-turned by a family member.
Mr. Ogura passed in 1998 at the age of 91. In his later years, the Ogura's family members would make the dolls and he would complete all the artwork on the body. He was a very famous and popular artist. His dolls are still very much collected and prized.
Vintage Condition: Excellent with no defects that affect the design, and retains the original craft/workmanship, commensurate with age. Any discoloration, chipping/cracking, surface wear, or structural damage is noted. 
Prefecture: Akita
Origin:
One of the most readily recognizable of the traditional dolls is the Kijiyama type, from the region of the same name in the Akita Prefecture. The name is derived from the wood craftsmen (Kiji-ya), who live in the remote mountains of the Tohoku region. The actual location of Kijiyama is so remote that it was inaccessible in the harsh winter mounts. Many of the kokeshi makers left and settled in the less remote areas of Kawazura, now part of Inagawa-machi. some suggest that the dignified, lonely look of the faces of Kiiyama kokeshi reflects the lonesome past of their birthplace.
Collector's note – characteristics / painting style:
In spite of the slightly sad look, some of these kokeshi have, they are very appealing and sought after for their well-defined style. they wear kimono in several distinctive patterns and are one of the less common strains found. Most Kijiyama have a one-piece body with high shoulders, and while originally chrysanthemums were common on the earlier versions, which were of two-piece construction, the body now possesses a kimono-like painted design, with an apron (maedare), over the kimono. Kijiyama heads looks like an inverted egg, some with a red bow on top. Incorporating Plum Blossoms are closely associated with the Ogura family.
Notable Artists:
Ogura Shougo, b. 1934
Ogura Kiyushiro, Master
Ogura Masaharu, Master.
Ogura, Kyutaro, b. 1906, Grand Master
Note: Others involved in the making of the Kijiyama doll are the Takahashi and Abe families.