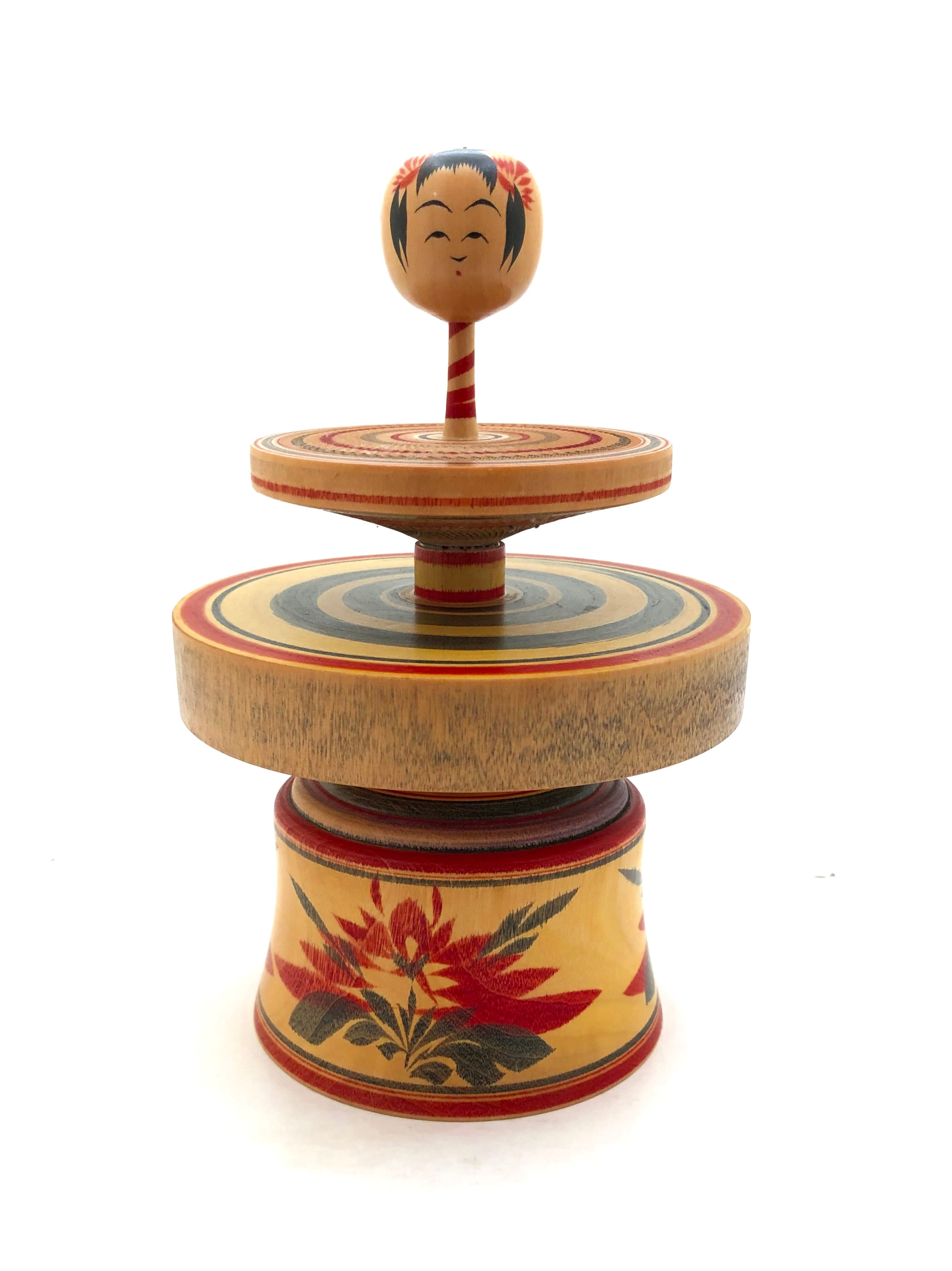 Traditional Japanese Vintage Narugo Spinning Top | Koma Competition Award by Katakura, Tomio
Dimensions: 9-0"h x 6-0"dia.
Koma Top Competitions have been around for many years and continue to this day. In these competitions which happen throughout Japan, all ages compete to see how long their tops can keep spinning, as they shout "Ikinaga Shomon Shokurabe" (means to "shout with joy, approval, or enthusiasm). It is said that the long-lasting spin could mean "a long healthy life", and a strong spinning movement could mean "good luck with money". This extremely large, multi-tiered top was a Presentation Award to the winner of one of those competitions in the Tokushima Prefecture where Narugo is located.
This sophisticated Spinning Top is made of solid hardwood and has two fixed multi-layers representing the body of the doll and a base on which is used as a trophy and for presentation purposes. It is decorated with numerous motifs associated with the Narugo family strain including a definitive long neck supporting its decorated head with bangs, side hair fringes, Nurugo eyes, and a cat nose. The first tiered of the fixed top represents her shoulders with textured circular Rokoru moyo banding in red, green, and purple on a yellow foundation. This first section is mounted to a lower tear/base with circular strips that are painted in red and green and appear as if in a rotational motion. 

The base of the top has a bottom with a definitive point finished with a circular red and purple motif facilitating its spinning. The separate presentation base is beautifully fashioned with red and purple stripes on the shoulder with a painting of three red chrysanthemums, (Kiku) with green foliage, on top of a yellow foundation. It has a beautiful script signature of the artist who apprenticed under Unuma, Chikara of the Narugo family and has the title of this creation next to the signature on the base.

Condition: Rare, excellent, and beautiful example and condition. The top retains the original craft/workmanship and painted decoration showing a wonderfully developed patina commensurate with age and unrestored with no flaws. An important collector's piece not seen elsewhere and meets all the standards of Narugo Family Kokeshi collectibles.