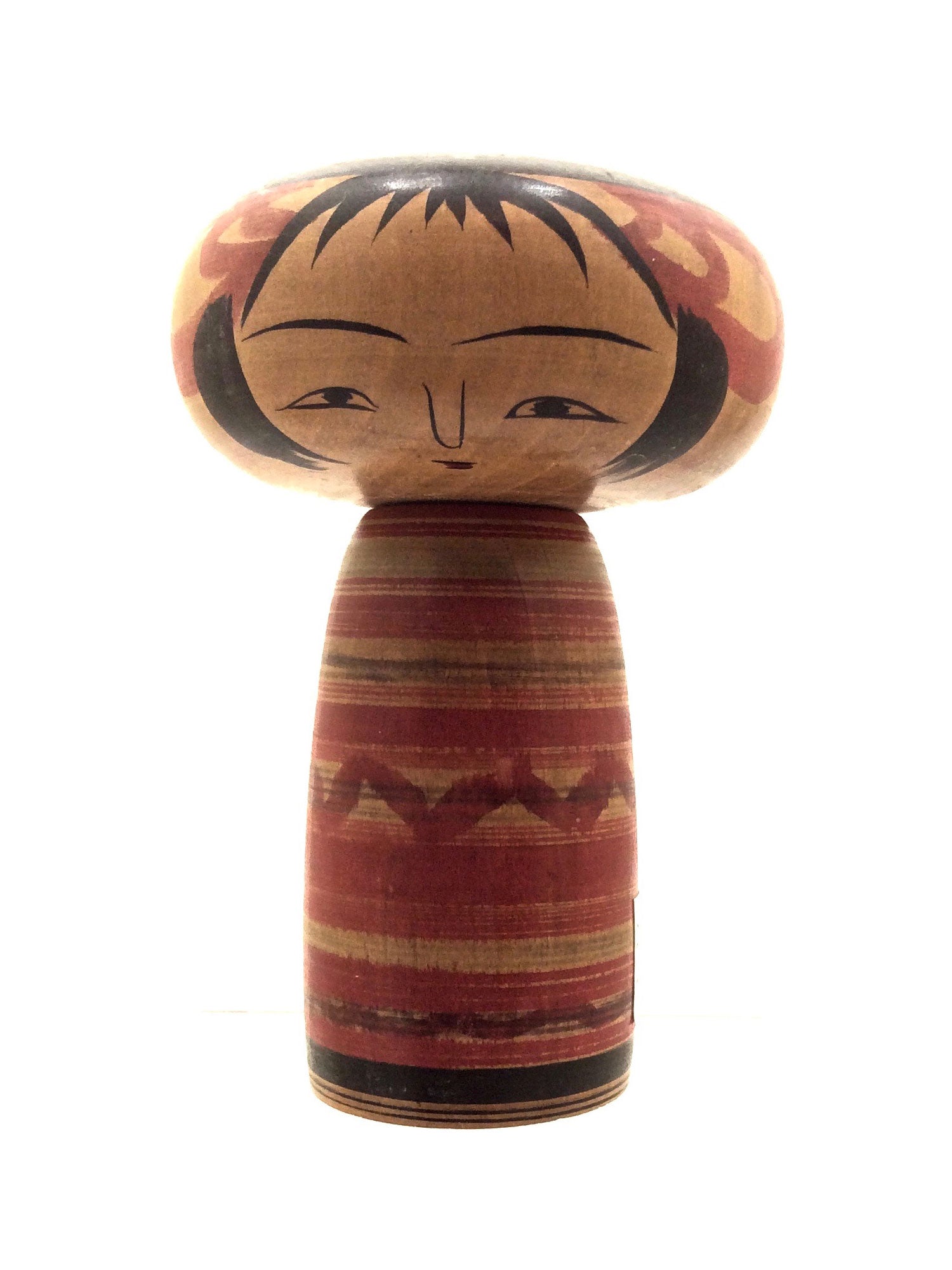 Vintage Tsuchiyu Traditional Kokeshi by Watanabe, Tetsuo
Dimensions: 4-1/8" h
Shown is a very unusual Tsuchiyu kokeshi with all the elements of that family, but quite stylized. The short flattened head is wonderfully detailed. It has the futae-mabuta, (double lid), eyes, a naru-bana, (long nose), and just a suggestion of a mouth in red. There are black concentric circles on the top of the head called jano-me, and together with a red bow and a loop on the temporal head, (kase), are major characteristics of this family. There are wavy line patterns between diverse wide colored lines. A collector will appreciate the vivid facial expression. The piece is signed on the bottom of the doll.
Vintage Condition: The piece is in excellent condition, ("as is"), and retains the original craft/workmanship and commensurate with age. Any discoloration, chipping/cracking, surface wear, or structural damage is noted.
Prefecture: Fukushima
Origin:
Tsuchiyu Family dolls originated in the 1840s at Tsuchiyu Onsen in Fukushima Prefecture, with the work of Sakuma Kamegoro, a kiji-shi who had made various wood items for visitors to the Tsuchiyu Onsen.
Collector's note – characteristics / painting style:
These dolls come in two types: one with a slightly cone-shaped body widening towards the base; and one that has a columnar body, tapering where the neck would be. The latter style is also known for the Rokuro Moyo style of circular painting. As a matter of fact, the artists of this type are famous for being the most accomplished in the circular style of painting, as they take it several steps further by either reversing the line at some point or by zig-zagging the lines periodically. Both add a dynamic element to the dolls.
The design of black, (occasionally purple or green), concentric circles on the top of the head are called Janome. Together with a red bow and a loop on the head, (kase), is one major characteristic of the Tsuchiyu Kokeshi. The innermost circle of the head is usually colorless. The patterns of the body used to be simple black lines but the lines are drawn in different colors in later models. Some dolls even have patterns of flowers between the lines. Most have eyes called futae-mabuta, (double lid), and noses called marubana, (round nose), and tare-bana, (long nose). A few dolls have consciously large eyes and noses with blushes around the eyes, similar to the Nakanosawa group).
The Tsuchiyu kiji-ya utilized snap-on and squeeze-in techniques for attaching the heads, which are then painted with a Janome pattern, leaving the center open. This is known as the 'snake eye design, and is also commonly seen on the tops of the paper and lacquered umbrellas, (Kasa).
Notable artists:
Saito Chushichi, b. 1917
Saito Sashima, Master
Obata Toshio, b. 1932
Obata Fukumatsu, Master
Jinohara Kouki, b. 1957
Jinohara Kazunori, b.1929
Saito Hiromichi, Master
Kamegoro Sakuma, Grand Master