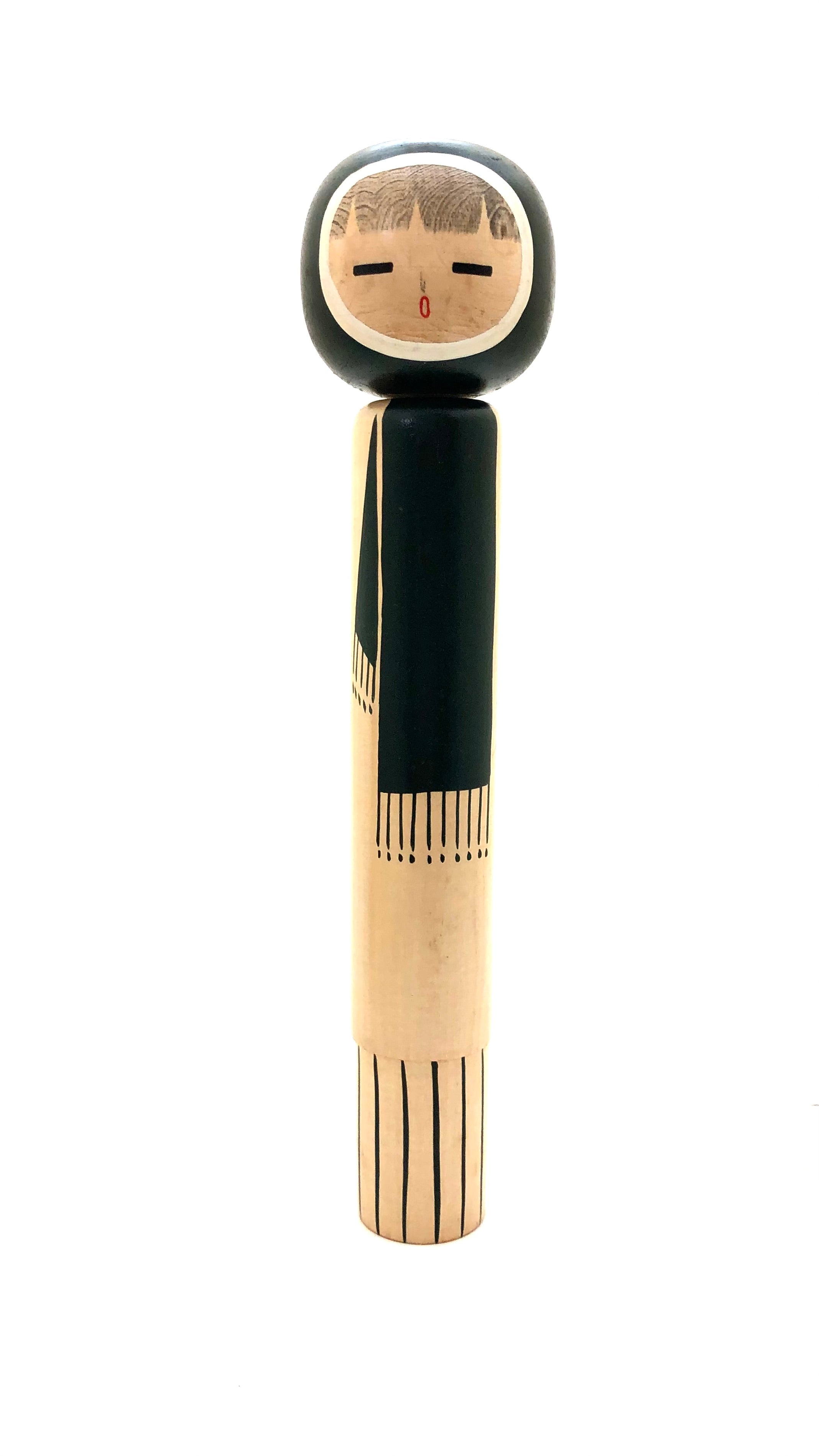 Vintage Japanese Sosaku Kokeshi entitled: "Kitakae | North Wind" by Shouzan, Shido
Dimensions: 14-1/4"h; 8-3/4"h
Shown is one style of winter Kokeshi by Shouzan, Shido (1932-1995) that has been extremely popular, mainly because it has contemporary overtones, with simple mufflers on their heads in black, green, and red. All elements of the dolls are represented by simple lathe-turning of the Kimono, with the undergarment shown with vertical stripes in the color of the muffler. The faces show bangs, slashed eyes, and open mouths as if singing the song identified with these pieces (see below). Shouzan published a book entitled: Kizin Kasho, citing examples of his award-winning Kokeshi for which these three were cited. The set was also published and detailed in Sosaku Kokeshi: Celebrating the Major Artists of the Creative Movement. The pieces were purchased in 1979 at a Yonezawa City collective and were sold as a set for they represent the three muffler color versions and the different bang treatment of each face. The two larger dolls have a Shouzan red impressed stamp on the bottom. We have seen only a few of these versions of Kokeshi being advertised for the past 15 years.
Our research about this doll said that Shouzan-san was inspired by a popular children's song entitled: Yuki 

"Snow is falling, kon kon
Hail is falling, kon kon
Falling, falling
Flies up high with hail and snow. Snow white cotton caps 
All the hills and fields are wearing, On the bare old trees the little Snow flowers are in bloom". 
See additional writings on our website related to this subject: Under our Browse and Learn section, please refer to https://mingeiarts.com/collections/artisan-woodworker-shido-shozan-1932-1995 for full details on the history and development of his work.

Condition: Excellent and beautiful condition affording each doll age-old elegance. Retains the original craft/workmanship showing a wonderfully-developed, untouched patina commensurate with age. The doll with the green muffler is the only piece that shows more wear on the head. The piece meets all the standards of Sosaku Kokeshi collectibles and is a wonderful set to round out a collection of Shido Shouzan. 

Origin:
Shido-san is considered by Kokeshi collectors and critics alike to be arguably the most influential artist in the world of Sosaku Kokeshi doll making. Shido-san's main focus was depicting unadorned Northern girls in the traditional "Mino", or Snow Coat, but he also produced tall, thin dolls, which were sparsely decorated. His keen sense of design, minimal use of color, and simple elegant shapes set him apart from his peers, making him one of the most collectible artists emerging from the creative period of the '60s. He is a winner of the Prime Minister's Award, among many other awards.
Collector's note – descriptive qualities, standard characteristics & ornamentation styles:
Shido-san loved studying the use of combining different types of wood to gain the desired effect and to give dimension to his pieces. He also enjoyed creating slender, tall dolls to support the fact that they resemble the tall, thin trees seen throughout Japan. He incorporated a repetitive textural pattern called 'Harmonic Chatter work' to enhance the natural qualities of the wood on many of his works.
Shido-san particularly enjoyed the textural qualities of 'Chattering' on the rain/snow coat, (Minomushi), which is a favorite theme, executed with minimal painted ornamentation, with an emphasis on the natural wood. In general, it is said the Japanese culture is one of modesty and humility. Occasionally we see different types of headdress, one of which he called a 'Tsunokakushi', which is a wide headresses or hood, which covered elaborate hairstyles. We are told that the Japanese people regulate their behavior and response by reading faces and the eyes of others. Here, as well as elsewhere, you will see many examples of different characteristics of the eye is expressions. His most famous doll was called "mai", a dancer, which was an elegant and slender doll created in 1970. This doll exhibited traditional hair design with an emphasis on a brightly colored "obi" which brings forth the best use of complex geometry to create traditional Japanese clothing elements.
Shido-san was a prolific artist/woodworker of Kokeshi dolls. We additionally see unusual subjects focused on Zen Buddhism and figures of Daruma, (Bodhidharma) of which most were made in a "roly-poly" type figure seen throughout festivals in Japan.
Artist's Signature: