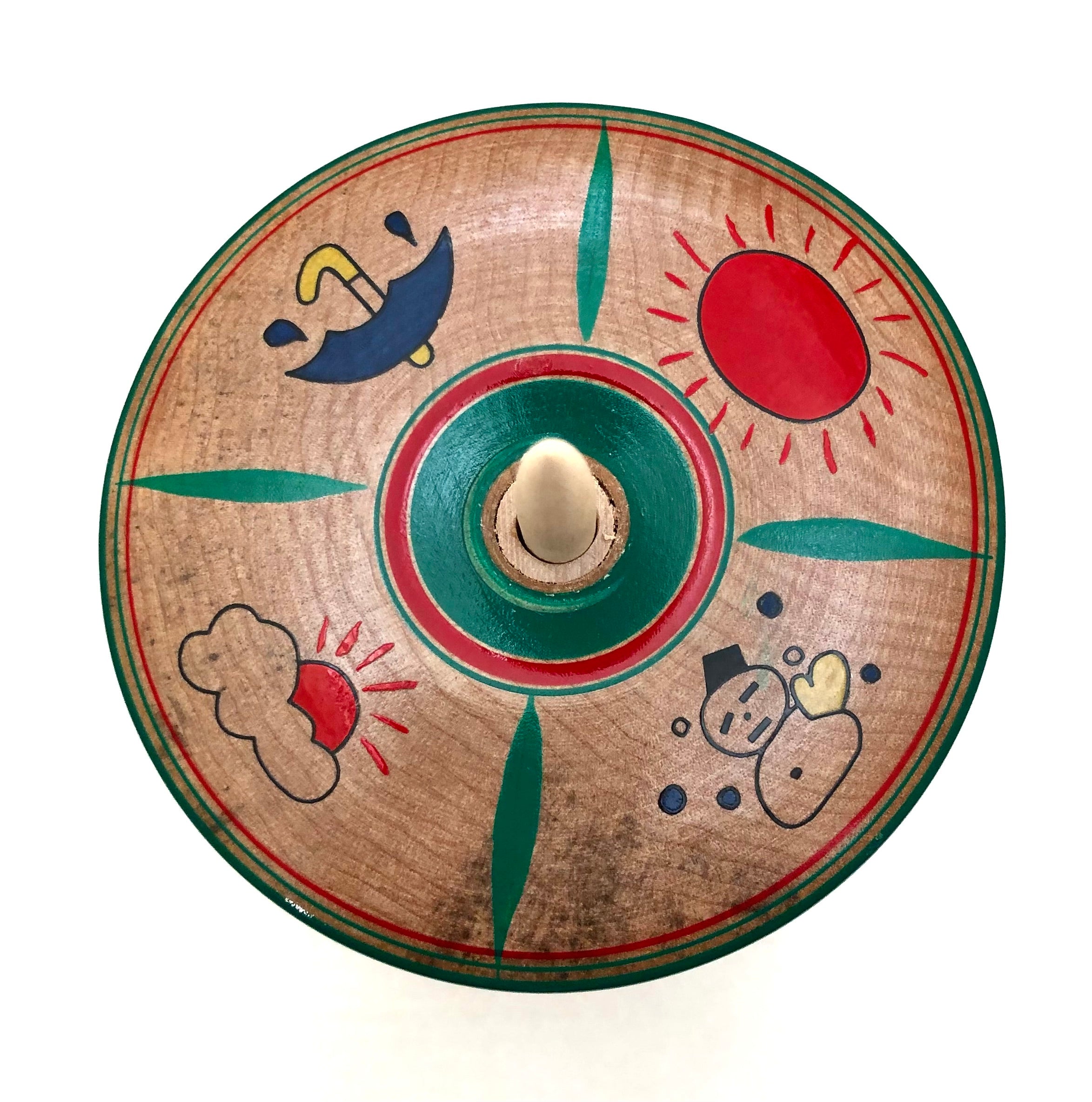 Vintage Japanese "Thunder God" Spinning Top | Raijin Dice Kaminaru, Sama by Tsuta, Fumio
Dimensions: 7-1/2"h x 3-1/4"dia.
Raijin here is depicted with an extreme expression and fierce, frightening face and is the God of lightning, thunder, and storms, in Japanese mythology and is a common motif in Japanese gaming toys, (this piece also known as Kaminari-Sama). Here this very rare and unusual toy displays two interesting features: There is a beautifully balanced spinning top on his head which symbolizes an 'Oni', a type of halo in red and green concentric circles with a painted and fashioned stem for ease of spinning. Secondly is his collar which forms a basis for his head adding to his appearance forecasting the weather, showing the full sun, an umbrella with rain, a partially clouded day, and a snowman all dictated by his fearsome power of the Japanese storms. 
When his head is spun his red and brass-tipped nose will point to the weather forecast. His Uni spinning top, being a separate element, can also be used to participate in Koma gambling games. The base of the toy shows his chest muscles, (pecs) and navel button with an undulating black graphic on a bright yellow bade surrounding the base of the figure. The toy has the artist's stamp on the bottom identifying Tsuta Studio.

NOTE: There are many kinds of tops in Japan. Tops popular in the Edo period traditionally had five colors. Each of them has its meaning; represents health, power, wealth, harvest, and nobility all having unique characteristics. 

Condition: Excellent and beautiful condition retaining the original craft/workmanship showing a wonderfully-developed patina and is commensurate with age. The piece meets all the standards of Traditional Kokeshi-style toys.