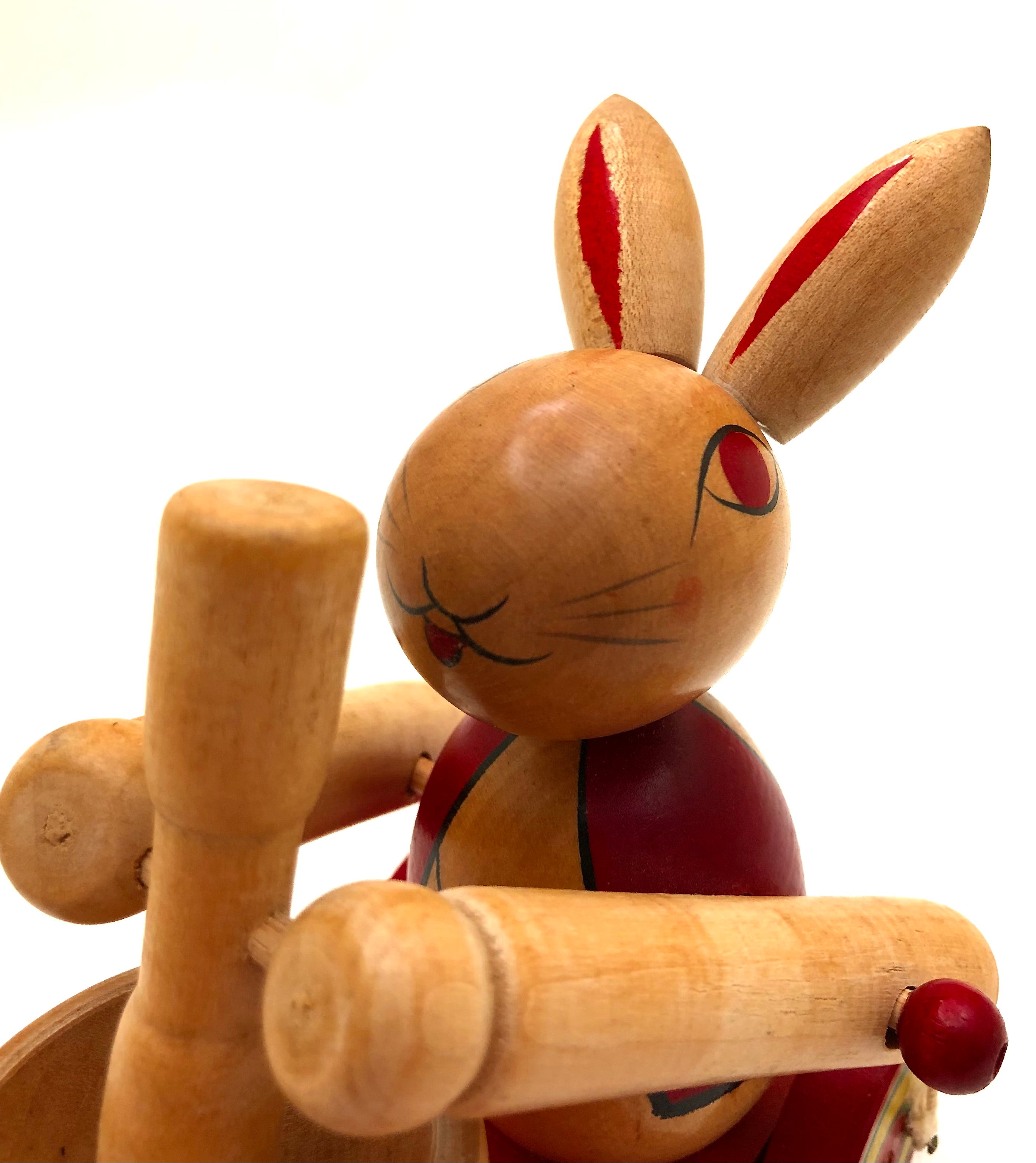 Vintage Japanese Traditional Kijigangu Rabbit Pounding Mochi by Tsuta, Fumio
Dimensions: 5-3/4"h x 4-0"w x 5-0"l
This is a wonderful pull-toy made in the 1970s. Pull toys are such an enduring mainstay for a reason: These simple toys encourage children's development of problem-solving, body coordination, and motor skills and have been produced by woodworkers in Japan through the centuries.
As with this toy, the three-dimensional object incorporates moving features that are activated by the rotation of its wheels which gives movement to the rabbit's arms. The story behind this piece is the traditional customs of pounding mochi. Mochi's history can be traced back to ancient Japan, where it was part of religious rituals and New Year's festivals which involved pounding rice with wooden mallets until it formed a sticky and elastic dough. This process is known as 'mochitsuki'.

The rabbit as well as the hare, which is the inspiration for this toy, have long been associated with moon deities and may signify rebirth or resurrection. They may also be symbols of fertility or sensuality, and they appear depicted in all forms of Japanese two-and-three-dimensional craft. The piece is painted in red and green to give character to the different aspects of the carving. The piece has the artist's stamp on the bottom with the title on the back of the figure.

See additional writings on our website related to this subject: Under our Browse and Learn section, please refer to https://mingeiarts.com/blogs/celebration-of-mingei-journey-through-japan/tsukino-usagi-the-moon-rabbit-beautiful-center-of-water-rabbits-selfless-and-making-mochi-on-the-moon for full details on the history and development of this Kokeshi toy.

Also, see https://mingeiarts.com/products/a-collectors-guide-traditional-and-creative-kokeshi-and-toys if you are interested in reading more about Japanese Kokeshi and toys.

Condition: Excellent, original condition, with no fading or loss of color, and consistent with the age and standards of collectible Japanese wood toys. All details are perfect and crafted and painted.