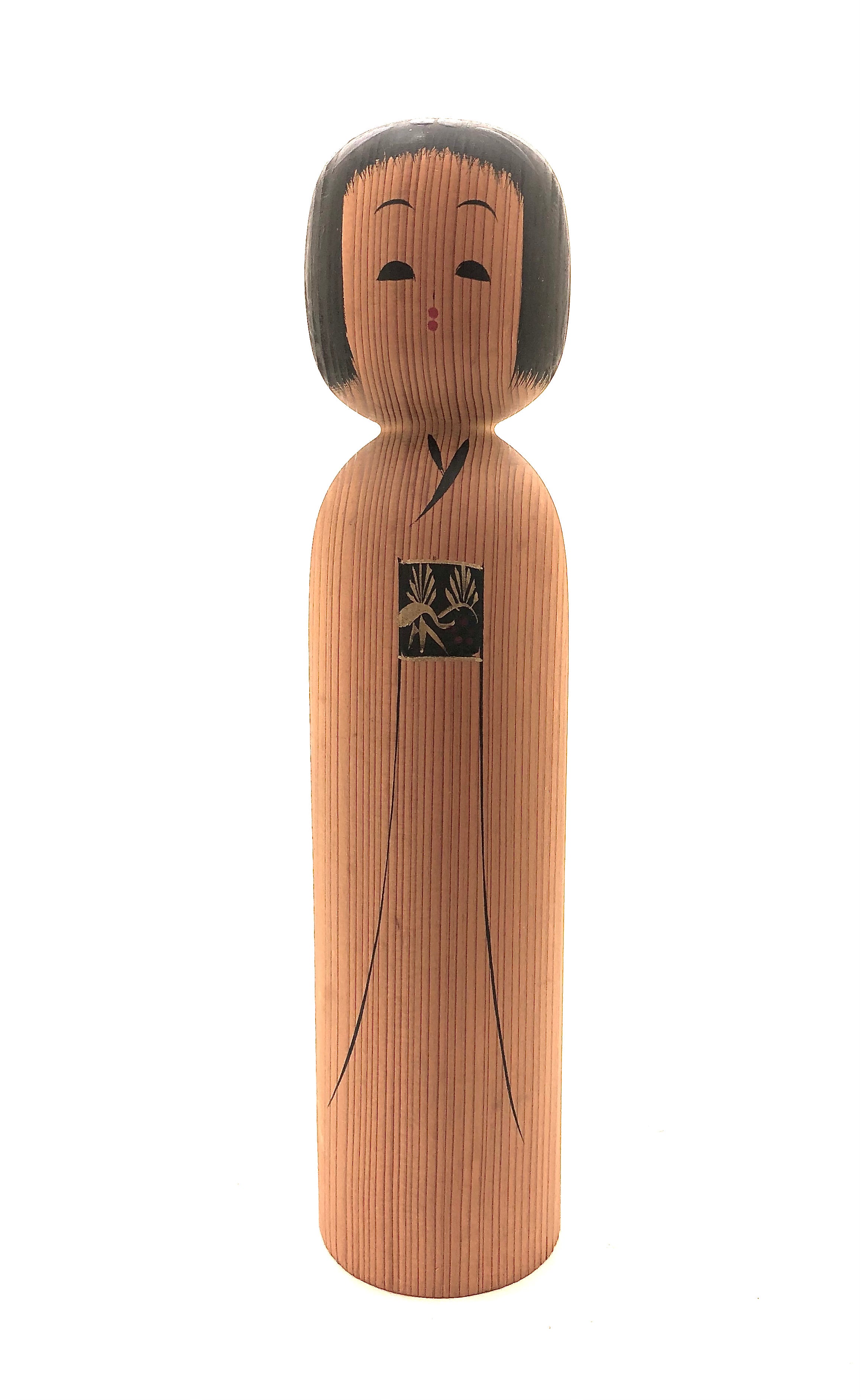 Vintage Sosaku Kokeshi Entitled, "Good Luck Maiden | Sho-Chiku-Bai" by Matagoro, Kiyomi, 9th Generation
Dimensions: 12-0"h
This Kokeshi was made by 9th generation Matagoro, Kiyomi, who is known as the 'Sho-Chiku-Bai' Kokeshi maker. The wood used in both his grandfather's dolls as well as his creations, was harvested Sugi, (Cedar), in the mountains of Nangai-cho in the Akita Prefecture. He and the other Matagoro craftsmen were highly-skilled carvers who enjoyed working with 'Sugi', as it was an aromatic, soft wood with a very visible grain. This doll is lathe-turned, as opposed to earlier generations who carved/chiseled dolls, (because of the wood being too soft, and they appreciated the chiseled effect that texturized the earlier pieces). The aesthetic difference of this doll is that the suggestion of the Kimono is usually a simple line. Its face shows the 'Bob' hairstyle with arched eyebrows and simple black eyes, with two dots representing the mouth. In this version he added the three symbols of 'Sho-Chiku-Bai' to highlight the abstract obi. The piece is hand scribed on the back with his red impressed stamp.
Condition: Excellent, original condition, with no fading or loss of color and consistent with age. The piece meets all the standards of collectible Folk Art. 

[no-bio]
Collector's note – descriptive qualities, standard characteristics & ornamentation styles:
Shown are two beautiful figures. The first is rendered in Blue, a very uncommon colour, and is seldom used on a Kokeshi doll. This 13-1/2"h doll entitled, "Ao Bara | Blue Rose" is rare because it is made of Kiriwood, (Pine), and not Cedar as earlier generations of his family preferred. The multiple layering of the blue roses is styalistically executed in combination with cherry blossoms in the background.
The second doll is entitled "Sho-Chiku-Bai | Good Luck" and measures 7-7/8"h. As with the first, both are lathe-turned dolls. This particular Kokeshi is in a more traditional bell shape, i.e., Nemariko style, having the Kimono enhanced by the natural wood graining. The obi depicts the three symbols of 'Sho-Chiku-Bai'. The hair is starkly black with red highlights. This doll is made of Cedar, and is inspired by the first Matagoro style. With both dolls, the face and hairstyle are traditionally based but with contemporary colorations.
Artist's signature: