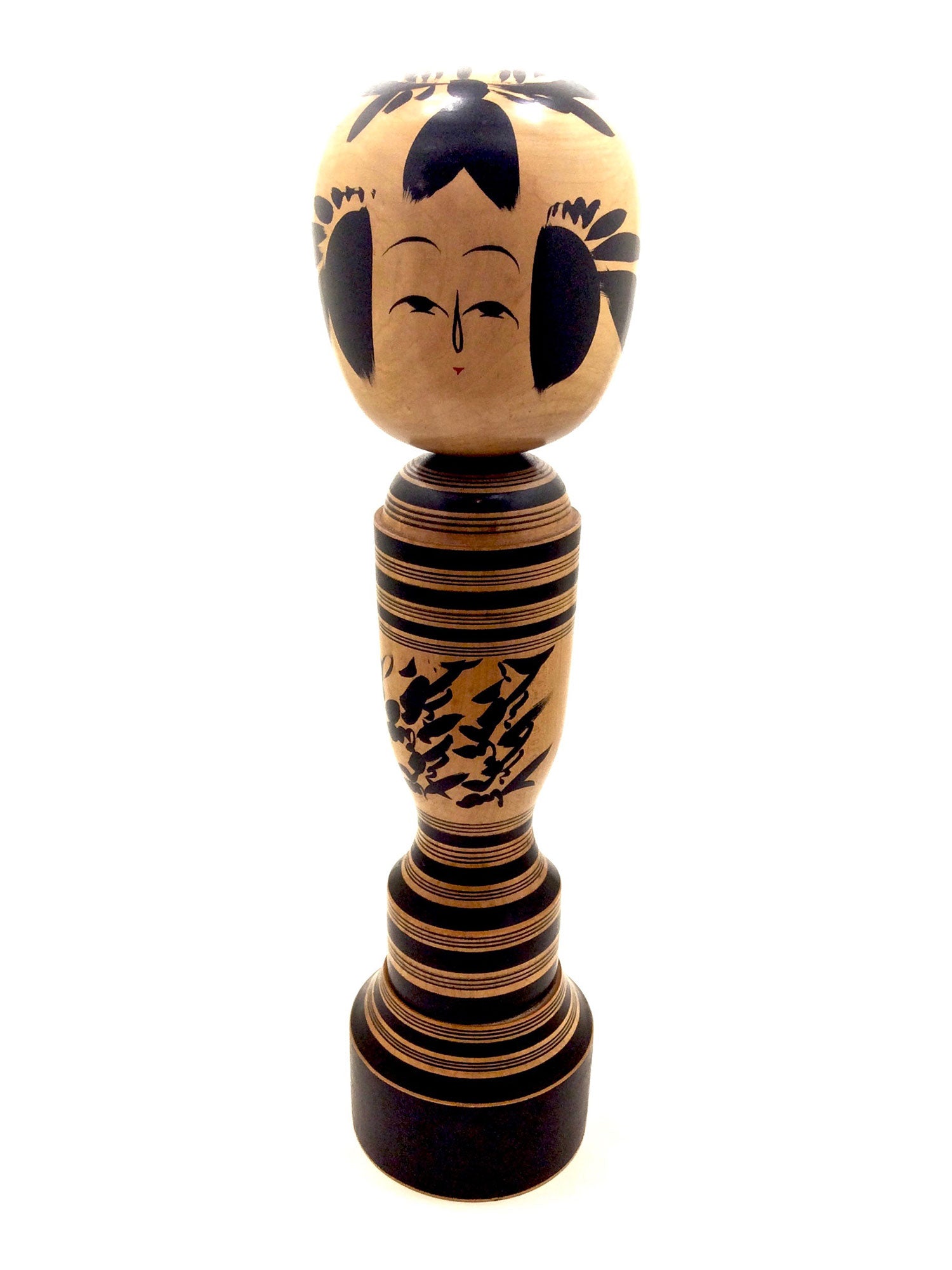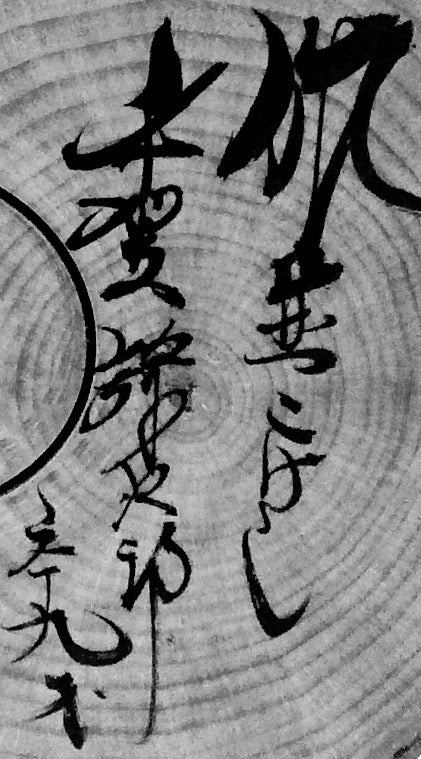 Vintage Yamagata Traditional Kokeshi by Hiraga, Kenjiro
Dimensions: 19-1/2" h
This doll is quite unusual for two reasons: It is an extremely large heavily-turned doll from one piece of wood weighing 4-1/2lbs, and secondly because it is a black Yamagata which is quite rare. It is generally believed that a carver had served an apprenticeship with a craftsman in Yamagata who began the Sakunami strain. Besides the two places, the doll is now made in Yonezawa, Tendo, Yachi.  Shown is an expressive face with individual bangs and tufts of hair surrounding the face with a Chrysanthemum on top of her head. Her eyes are categorized as Double Lid; the nose is the elongated teardrop nose, and a tiny red dot represents her mouth.  Her undulating body, (kimono), has varying widths of Rokoru-Moyo line work with abstract flowers in the center representing her obi. She sits on a black base, again made from the same piece of wood and affording her a firm base on which to be displayed. The doll is signed by the artist. The price includes FREE shipping with the exception of a small cost for packing supplies. 
Vintage Condition: The piece is in perfect excellent condition, ("as is"), and retains the original craft/workmanship, and is completely free from the effects of aging. Any discoloration, chipping/cracking, surface wear, or structural damage is noted. 
Prefecture: Miyagi
Origin:
Unique to this strain of the original ten traditional types is the fact that the Yamagata Kokeshi originated at Sakunami Onsen in Miyagi Prefecture, and produced by the Kobayashi family. The Kobayashi family later moved to the city of Yamagata in the prefecture of the same name. However, the Hiraga family stayed in Sakunami and continued producing the same style doll, which is why these Kokeshi are made in two different locations. Because there are two very different body shapes in this group, many people consider them separately, but due to the confusion over who actually created the first of this type, we will discuss them as one family.
Collector's note – characteristics/painting style:
Both shapes are made of one piece of wood, and plum and crab-flower chrysanthemum, (Kiku), blossoms dominate the body design. The flowers are usually painted in a very bold, stylized design in colours of red and dark green, and painted or grooved bands will ring the top and the bottom of the dolls. The dolls have disproportionately larger heads, but while the Yamagata doll has a very slender body, the later Sakunami dolls have wide upper bodies, and very narrow bases. Both look quite top-heavy, leading some people to assume that originally they were much smaller, and designed to be hand-held toys, rather than freestanding dolls.
Indeed, these dolls are one of the older Kokeshi forms, as they date to the early Meiji period, (1868-1912). Another unique feature of the Sakunami dolls is the fact they are only made from Mizuki, a very pale, fine-grained variety of dogwood, which grows in the Yamagata area.
Notable artists:
Hiraga Tadashi, b. 1937
Hiraga Kenjiro, Master
Kobayashi Koutaro, b. 1936
Kobayashi Eizo, Master
Kobayashi Seitaro, Grand Master