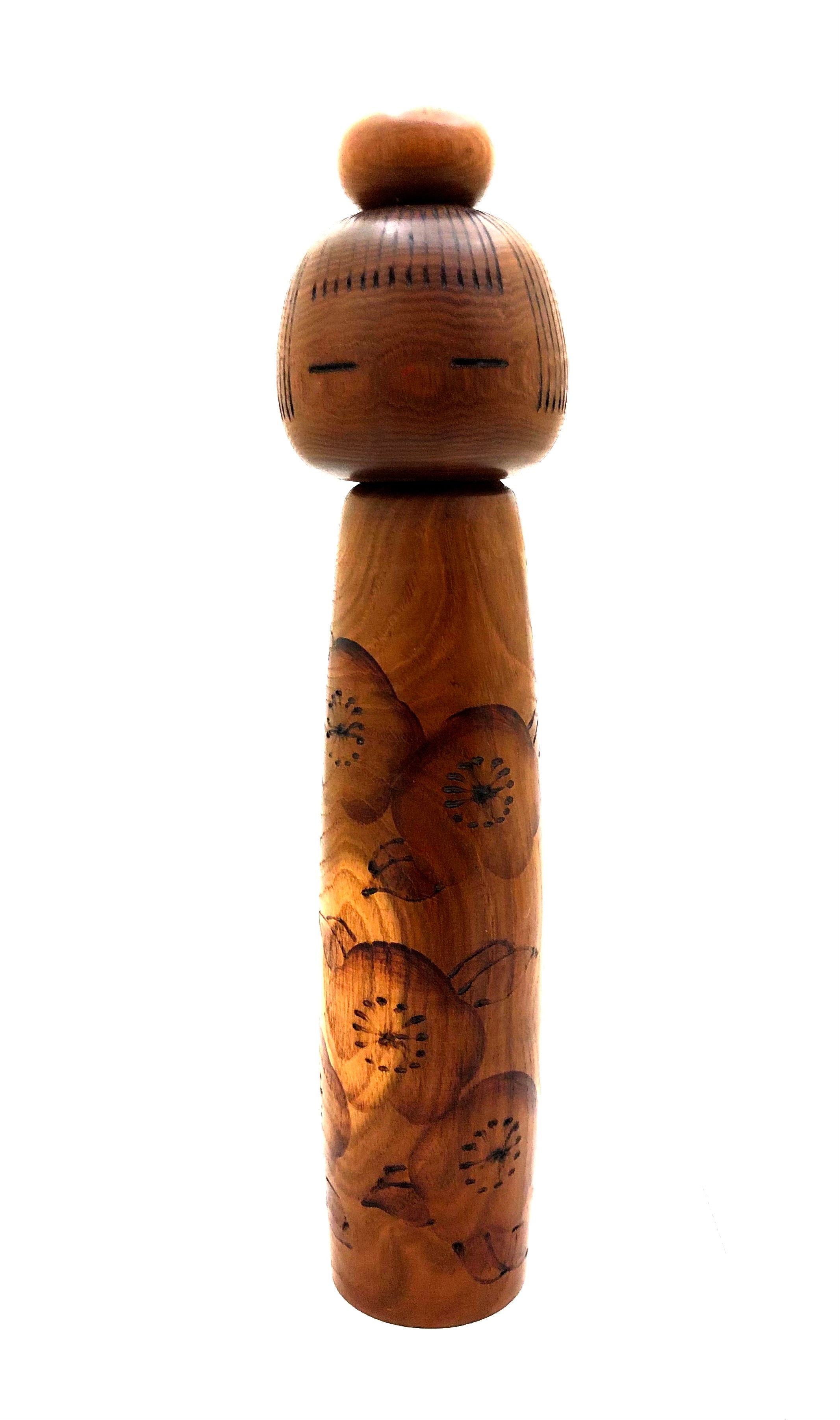 Vintage Sosaku Kokeshi entitled: "Kantsubaki | Camellia Girl" by Takamizawa, Kazuo
Dimensions: 12-3/4'h 
Takamizawa-san is one of the Kokeshi artists referred to as a Kokeshi-kojin, a craftsperson who creates dolls from beginning to end, for which Kokeshi collectors are drawn to the aesthetic beauty and simplicity of form by these spirit-infused, lathe-turned dolls. This doll celebrates two elements that Takamizawa-san loved: the celebration of natural wood and the Winter Camellia. The figure retains the wonderful character and patterning of the Enju wood, in which in this case the wood's natural highlight is kept as a natural decorative element. The hairstyle is a classic black hair treatment with a (Mage), as a separate piece and complements the long bangs and 'Bob' treatment framing the face with a red nose. The entire figure details are executed with a woodturning technique which is the free-hand art of decorating with burn marks to give a visual and textural quality to the surface. This doll has Takamizawa-san red impressed personal stamp which he started affix it on his Kokeshi which is being sold in the ryokans/spas.
Condition: Excellent with no imperfections or color loss. Museum quality piece and a perfect doll for the collector of Takamizawa's work in the Sosaku Kokeshi folk art genre.

Origin:
Takamizawa-san lives in Maebashi City, in Gunma Prefecture, considered the center of modern Creative Kokeshi doll making. He is a multiple award winner, including the Prime Minister's Award. 
As collectors we felt it was most important to represent all Sosaku Kokeshi artists, whether or not the artist has a written account of his or her life. Each show the diversity of this cultural specialization and the creative work produced by this artist.
Collector's note – descriptive qualities, standard characteristics & ornamentation styles:
His early 1950-60 dolls were left undecorated except for minimal wood burning and incising of camellia blossoms on Enju wood. With most of his dolls, the hair decoration is carved and stained, adding a classic black hair treatment with a 'bob', (Mage), as a separate piece. His designs can be delicately rendered in black pigment or thickly painted white blossoms floating on the body, adding dimension to a piece. He began creating more colorful, brightly decorated dolls in the 1970's.
Artist's Signature: