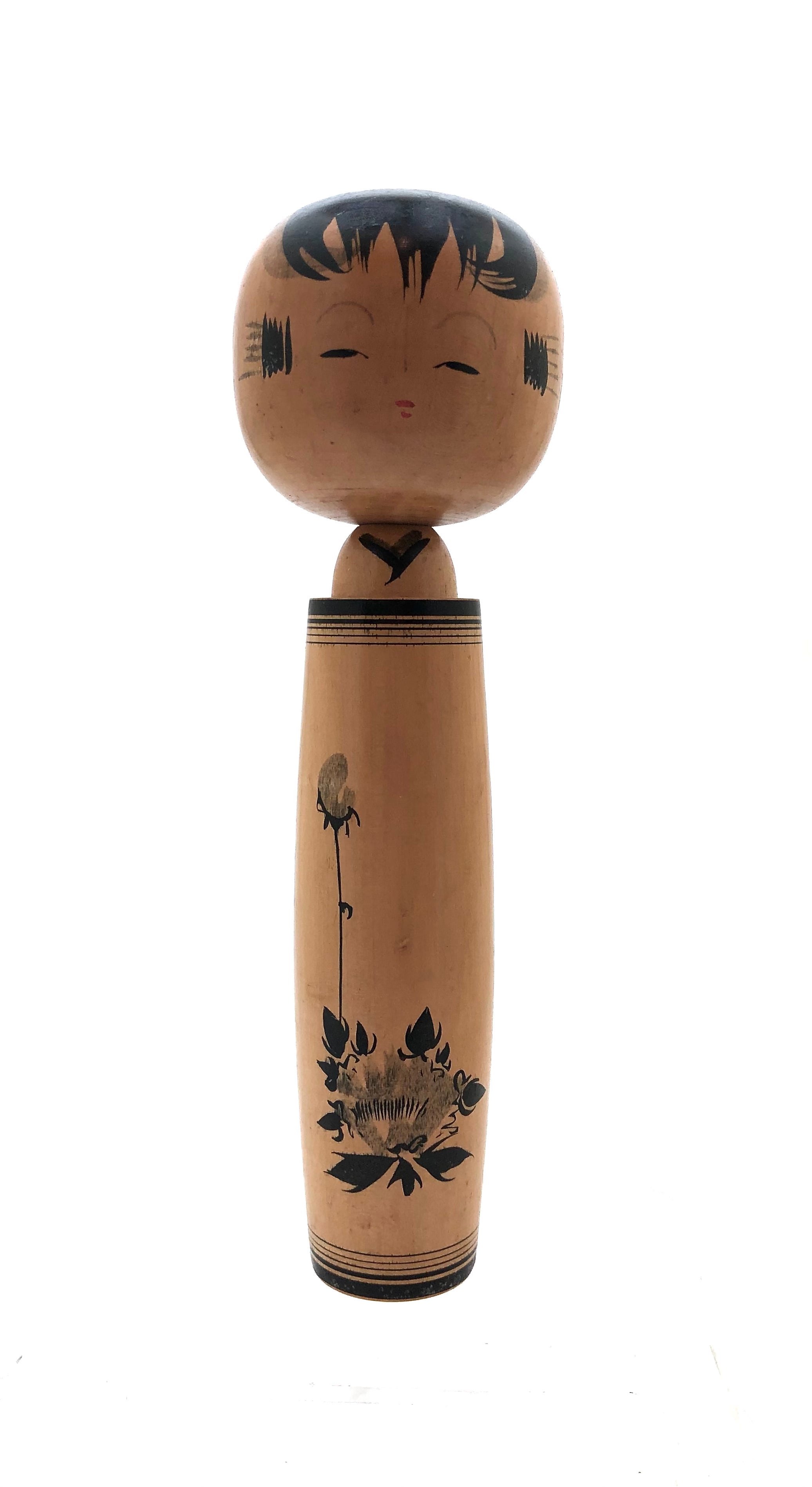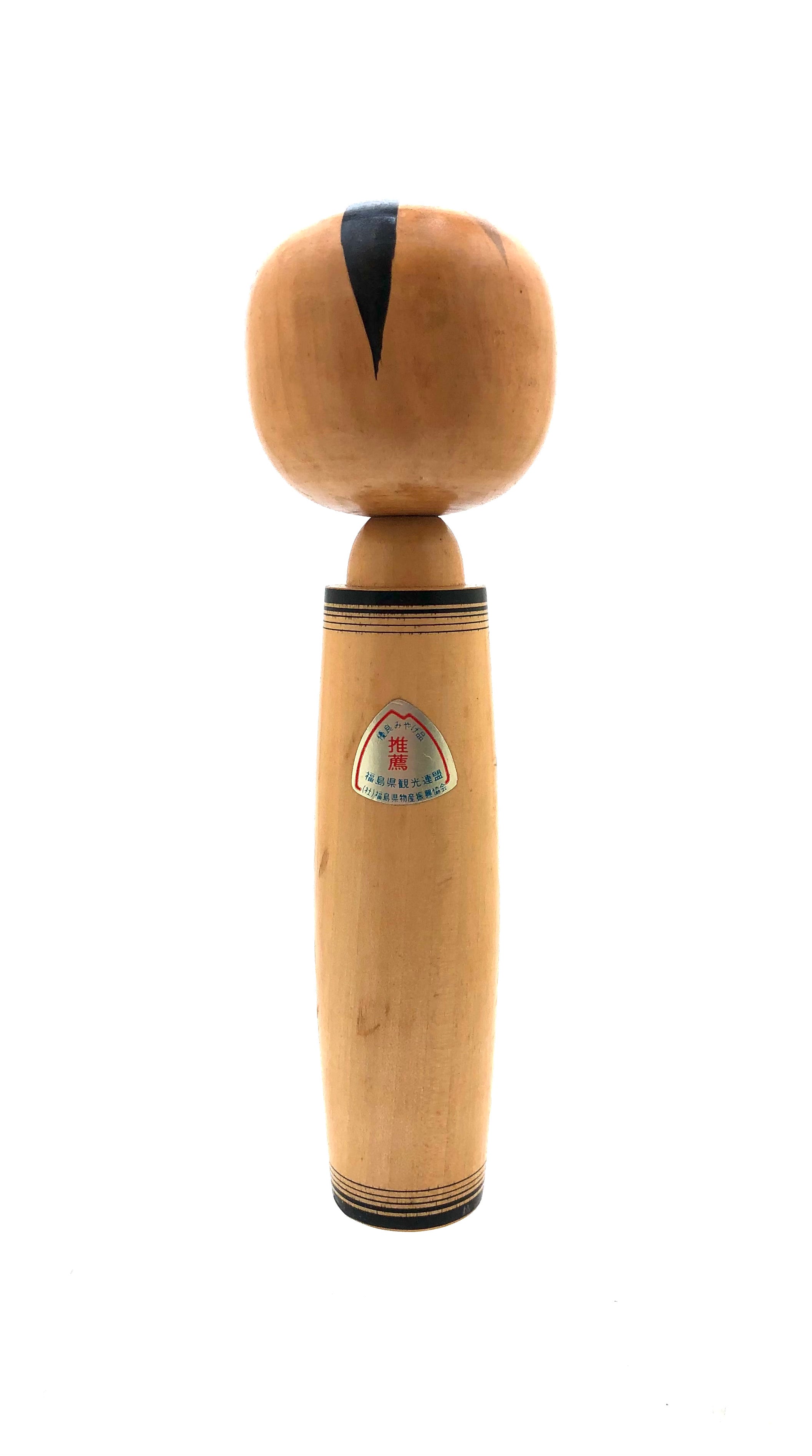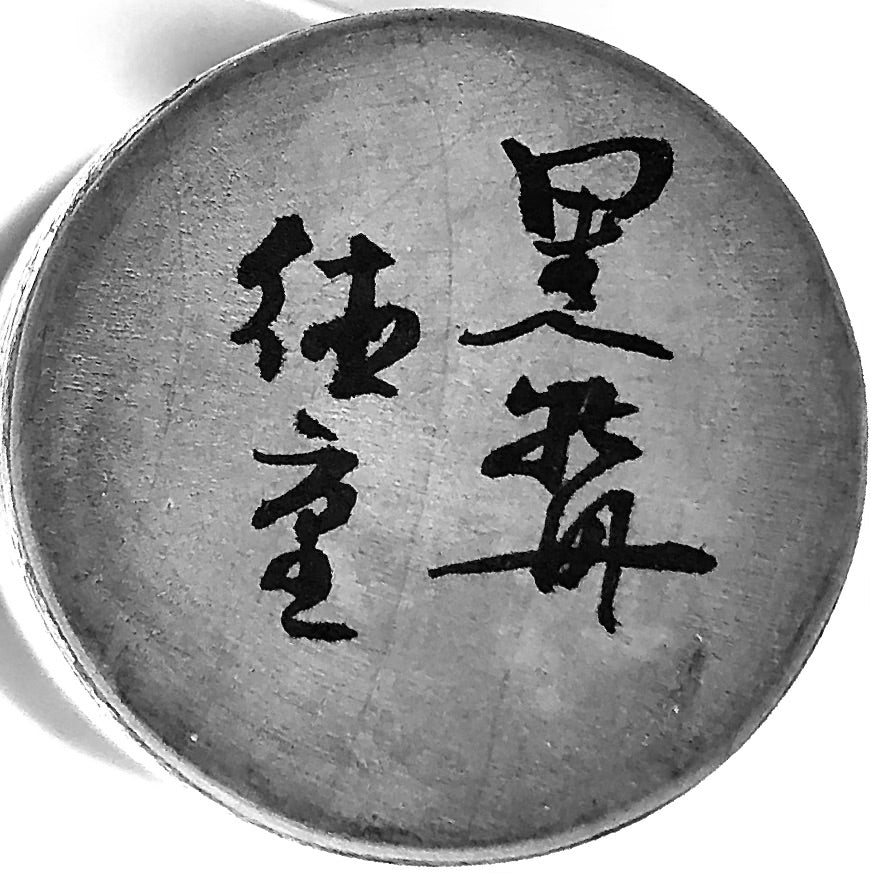 Vintage Sosaku Kokeshi Entitled "Black Peony | Kuro Botan" by Kanazawa, Tokushie
Dimensions: 8-0"h
Though this beautifully finished doll has traditional Yajirou family elements and techniques, it is considered a Sosaku doll, for it has a creatively rendered  Peony motif delicately painted with black ink in sumi-e' style drawing. It is a sophisticated representation of the Black Peony, (Kuro botan) and is referred to as the "Prime Minister of Flowers". The doll exhibits the original seal on the back indicating that it is an award-winning version of Kokeshi. The entire figure is painted in black with the upper body having a hand-painted collar with horizontal stripes below as well as on the base encircling the figure, executed in the 'Rokoru Moyo' style. The unique feature beyond the unusual use of the Peony motif is the head and face treatment. The hair is very stylized, with the Buddhist hairstyle reminiscent of the type when hair was draped down the back of the head. The face has double eyelids, pick shaped nose, and a tiny red mouth. This particular doll is made of dogwood, (mizuki), which was the preferred wood at the time, so as to emphasize the beautiful detailed floral motif. It is finished with a natural colored candle wax, (Rosoku no ro). The piece is signed in script on the bottom by the artist. Note: There is no biographical information published on this artist.
Condition: Excellent, original condition, with no fading or loss of color and consistent with age and standards of collectible Folk Art. All details are perfect and as crafted.

Kanazawa-san is renowned for his dolls featuring paintings of Black Peonys, (Botan Chou), which are a "rare" motif on Kokeshi dolls, and dolls, and are only made as a "one-off" creation for a specfic individual or occasion. It is said that Kanazawa was inspired by the famous, Peony Garden in Sukagawa, in the Fukushima Prefecture. His dolls are based on traditional facial and hairstyle types, and he incorporats a hand-painted striping technique called Rokuro Moyo. He only utilized black ink in sumi-e' style graphic technique. The third delicate graphic  represents a peony petal and butterfly. The Kamon symbol was used only for top levels of citizens during the Samurai period in Japan. Kanazawa-san's dolls are highly prized and seldom seen.
Artist's Signature: